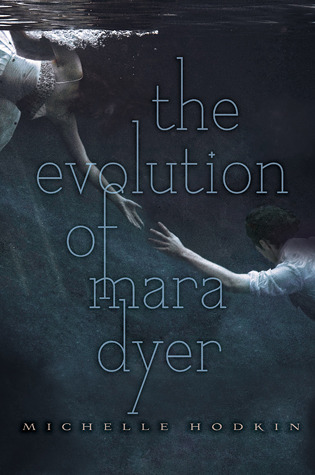 Title: The Evolution of Mara Dyer (Mara Dyer #2)
Author: Michelle Hodkin
Narrator: Christy Romano
Publication Date: October 23, 2012
Publisher: Simon & Schuster
Add to Goodreads
Reviews for book 1 & book 3
Mara Dyer once believed she could run from her past.
She can't.

She used to think her problems were all in her head.
They aren't.

She couldn't imagine that after everything she's been through, the boy she loves would still be keeping secrets.
She's wrong.

In this gripping sequel to The Unbecoming of Mara Dyer, the truth evolves and choices prove deadly. What will become of Mara Dyer next?
Okay, so after reading
The Unbecoming of Mara Dyer
I was already totally shocked. After finishing
The Evolution of Mara Dyer
I was like:
Apparently the ending of the last book wasn't that surprising to some, but I was completely thrown off. Now Mara knows she's not crazy, which almost makes the entire thing even worse! This issue from her past just won't stop. And, let me tell you, the bad guy here... he's completely insane.
This book picks up where the last left off and things get progressively stranger and more infuriating. Mostly because while we know Mara isn't a crazy person, no one else believes her. Her parents, her doctors, her brothers - they all think that she's a possible schizophrenic. And Jude certainly doesn't make it easy on her. He's constantly moving things, planting things, using people to get to her. I can't believe I'm going to say this about a YA heroine, but Mara is certainly a stronger person than I am. She has to go through this [almost] completely alone! And the whole time I just want to have a... moment... with Mara's idiot family!
Mara's relationship with Noah is honestly quite believable, which is kind of a breath of fresh air in this genre. Still, his attitude is sometimes a little questionable. I mean, I get it. The guy has issues. But sometimes I wonder if he actually couldn't use a little time in a psych ward. Overall, I like him. I don't think he's completely psycho and I don't think he's an abusive boyfriend waiting to happen. My real problem with Noah is the way he flaunts his money all the time. I mean, this guy is constantly throwing around thousands of dollars like it's toilet paper. He's constantly telling Mara (and everyone else) that "it's just money" and "money can buy anything," and I just can't help but feel that this is getting really old.
The one thing that I'm really pretty confused about is the flashbacks - the "before" chapters. I understand that it's supposed to be Mara's grandmother. I get that she's supposed to be sharing memories genetically or something. But...
I really just don't get it. This is one area I'm really hoping they'll clear up in the next book because it really just seemed kind of thrown in. Then again, maybe I'm just really dense and it made perfect sense to everyone else.
I feel like other people "get" things easier than I do and maybe that's a good thing. Because the last few chapters were, like they were in the last book, a complete shock. The big conspiracy is finally uncovered and I'm just over here like
Those of you who have read it know what I'm saying. Those of you who haven't... WHY?! Go pick up this series right now! Luckily I only have a couple months to wait for
The Retribution of Mara Dyer
.
---
°o°
Notes on the Audiobook
°o°
I've figured out what the problem is with Christy Romano. She's a great reader, but she is a TERRIBLE actress. Her voice has the same tone no matter what she's saying or what the situation is. The accent she uses for Noah is awful. Luckily for this book, I cannot rate it based on the audiobook narrator.