Click for days 1 & 2!
Day Three
(again, I've included links for locations, rides, and events)
On our third day of Disney we slept in a little later, not rolling out of bed until 9am. We needed our beauty rest because... tonight was
Mickey's Not So Scary Halloween Party
!! We ate some cereal and headed out to Hollywood Studios to get what we didn't realize would be one of our last looks at the
BAH
(you will not be missed). There was some disagreement about Coda wanting me to carry an umbrella in my backpack that stuck up three feet over my head, but I lost. I walked around all day looking like an idiot.
Our first stop of the morning was to use our
Rock 'n' Roller Coaster
FP+. We basically walked right on without any issues. Yes, Coda was certainly enjoying the new Fastpass system.
Afterwards we walked down to
Starring Rolls Cafe
to grab some coffee. This time I asked for iced and they were able to accommodate, thank goodness! While we drank our coffee we strolled through the shops - the new Frozen shop was definitely... interesting. I'm sure some people are less than thrilled with that! On our way back towards the
Tower of Terror
we realized that the
Beauty and the Beast show
was about to start! We ran in and got seats near the back.
I don't have to tell you it was amazing. When the show ended it was time for our Tower of Terror FP+ and we ran down the road to get there in time.
For the first time in my Disney World history, I saw the little girl in the drop! So creepy! I definitely hope I get that side again soon!
By now it was lunch time and the cereal was long gone! We wanted to have lunch at
ABC Commissary
, but stopped back into Starring Rolls to get dessert... Coda got the red velvet cupcake and I got the seasonal carrot cake cupcake.
More on that later... Before I could try it we had to order lunch! We got the Asian salad to split and found a seat. The salad was great! Unfortunately... the cupcake was gross. Some genius decided to put orange flavored frosting on the carrot cake (I'd thought it was just white frosting they'd dyed orange). I took once bite and passed it to Coda. I did eat the chocolate hat on top though! My absolute favorite thing about ABC Commissary was seeing the Revenge props on display! It's one of my favorite shows!!
Our last FP+ of the day was at
Voyage of the Little Mermaid
. On the way we came across something unexpected. We'd been told that the
Frozen Summer
was over and everything was gone. They were wrong!
We had a lot of fun hanging out in the snow! And Coda decided that we'd definitely be coming back later for the
Frozen Sing-a-long
. But first... ARIEL!!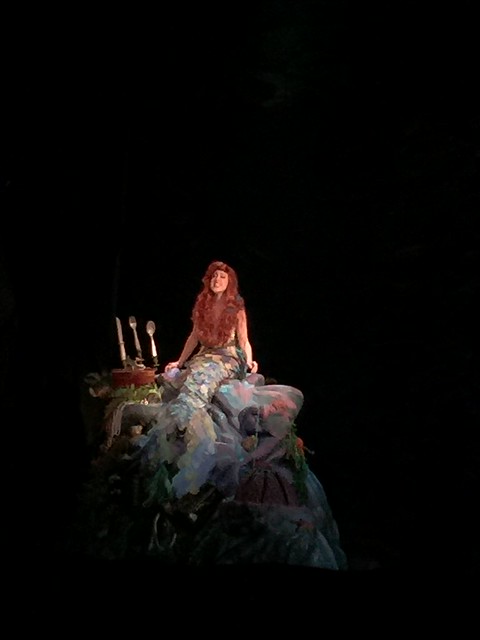 I love that show! I just wish it was longer!! The silver lining? We were able to get over to the sing-a-long that much sooner!
Yeah... he was definitely way more excited about it than I was. Have I mentioned he's in love with Elsa? Haha!
With Coda vowing to come back to see it again soon, we had to head out to the Magic Kingdom for
MICKEY'S NOT SO SCARY HALLOWEEN PARTY
!!!
Our first stop was the
Seven Dwarves Mine Train
which was down to about a 40 minute wait. We played around a bit in the queue where Coda was constantly irritated by adults (not kids) holding up the line by stopping at each play station for 5 minutes while the people in front of them kept going (he's not so good with the patience virtue). The coaster itself was really amazing! I LOVED the combination of thrill and dark ride. The cottage at the end was so cool! Were those animatronics from
Snow White's Scary Adventure
? The only downside to the mine coaster was that it was so incredibly short.
Next we headed to the
Emporium
to grab the limited edition MNSSHP magic bands! I wish I had pictures... but I don't. Here are some stock photos of them though:
We were told they'd do something unique when we came through the gate! We later tried them and they made the magic band reader light up with multicolored lights vs. the normal green. Unfortunately, it only happened once and I'm not sure if it will ever happen again.
When we left the Emporium we noticed a line starting to form next to City Hall. When we stopped to ask about it we found out it would be Jack and Sally who were coming out early tonight! We were lucky enough to get close to the front of the line! Coda is totally obsessed with Jack Skellington.
Yay!! Oh, and as you can see, we did not dress up because my husband is a party pooper. Moving on...
By this time in the day we were literally about to starve to death (okay, not literally). We ended up settling on
Pecos Bill
since we'd never been. We were both very impressed and agreed it would be our new go-to place at the Magic Kingdom! Yummmm! With food out of the way, it was time for another ride.
The Haunted Mansion
!! Everything worked perfectly with no stops or hangups... SIKE (yes, I said that). We got stuck for about five minutes in front of Leota.
We had a photo taken with the ghost outside but my photopass pictures expired and I accidentally deleted it from my computer. Oops.
Now, I have something rather embarrassing to admit. I spent a good portion of the night standing in a line not related to rides, characters, or candy. What line, you ask? Well, the line for the soft opening of
Memento Mori
, the new Haunted Mansion store.
As you can see, I was not the only one mad enough to stand in a line for two hours to get into a store that I didn't buy anything from... It was extremely cool though! There are a couple of neat hidden elements to the shop that you will either see by chance or by patience.
Following our short venture into the gift shop, we exited and went to see the ghosts out on the lawn.
She was so entertaining and a definite high spot of the night! I only regret she did not stay out longer.
By this point in the night we were beginning to think about getting a spot for the parade. On the way we stopped to meet Rapunzel (no pics because I look like a hot mess in those particular pictures). We also met Cinderella. She was probably the strangest of the face characters I've ever met. She was pretty out of character, in my opinion. Perhaps she was just having a bad day, but she seemed pretty exasperated at having to take pictures with people.
Finally, it was time to get a seat for the fireworks and parade! We got a seat close to the castle on the sidewalk. The
Celebrate the Magic show
was so cool! I loved the addition of the villains and Frozen characters.
I also loved the perimeter fireworks! But then it was over. We decided to hang around and wait for the parade. In the meantime, I ran down to
Main Street Bakery
for a cupcake that wouldn't have orange flavored frosting! Unfortunately I don't have any pictures because it quickly went into my belly.
Then the Boo To You Parade started... OMG. My life was pretty much complete when I saw the headless horseman.
I was so glad it hadn't rained! I would've been devastated if the horseman couldn't ride. The parade was AWESOME! The parade alone is totally worth paying the entry fee, in my opinion.
This picture is really interesting... Someone took a flash photo in the middle of mine so half the ghosts are lit up and half aren't:
Once the parade (sadly) ended, we decided to hit a couple rides. First was
Peter Pan's Flight
(no pics - it's a dark ride and, pro tip: flash photos are rude) followed by
Under the Sea
!
It was now that Coda decided we should start trick-or-treating. Let me tell you, waiting until the end of the night is the way to go for sure! Every station we went to filled our bags at least halfway! Pics later!
On our way out of the park we ran into Jafar!
By now the park was closing and we tried to make one last dash for
Pirates of the Caribbean
. The cast member at the front told us we would be the last ones of the night! We ran through and almost got lost in the process. When we got to loading, however, they told us we couldn't ride. So we turned around and walked back out.
The entire park was perfectly spooky with the fog and Halloween music (did I mention we were totally alone?). When we got back to Main Street where people were filing out, it was blue!
We left the park considering coming back the next night because our bags were so full of candy and we'd had such a great time! We got in the car and headed back to the hotel. Once there, we decided to organize our candy because we're adults.
Good night!