Happy Wednesday, fellow book lovers! This week's "can't wait to read" is: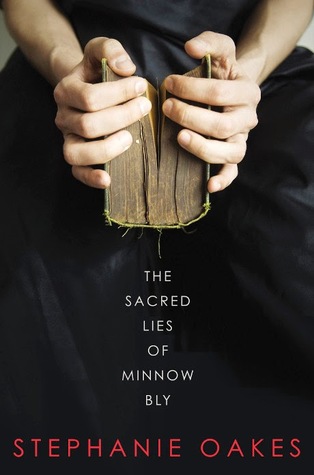 The Sacred Lives of Minnow Bly
by Stephanie Oakes
Publication Date: June 9, 2015
When seventeen-year-old Minnow stumbles out of the woods one winter morning, she is haunted and handless and covered in someone else's blood. She has just escaped the strict religious commune run by a cruel man named the Prophet. In exchange for freedom, she leaves behind her family, her home, and Jude--an outsider boy who changed everything.

But the real world isn't the sanctuary Minnow imagined. Soon, she gets arrested and placed in juvenile detention. Now, Minnow is being questioned by an FBI psychiatrist about the night she escaped, the same night the Prophet was burned to death in his own home—a murder Minnow may be responsible for.

A modern retelling of the Grimm fairy tale, "The Handless Maiden," in which the Devil orders a girl's hands cut off, The Sacred Lies of Minnow Bly is the story of a girl growing out of the wreckage of corrupted faith.
This sounds an awful lot like
The Village
, doesn't it? Maybe what would have happened if
The Village
hadn't ended. Either way, this sounds really good! This is another one I cannot wait to get my hands on!
---
"Waiting On" Wednesday is a weekly event, hosted at
Breaking the Spine
, that spotlights upcoming releases that we're eagerly anticipating.