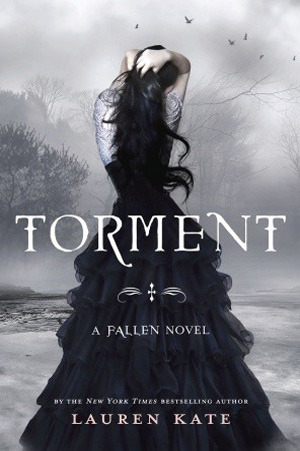 Title: Torment (Fallen #2)
Author: Lauren Kate
Publication Date: September 28, 2010
Publisher: Delacorte Press
Pages: 452
Add to Goodreads
Review for Part 1
How many lives do you need to live before you find someone worth dying for?

In the aftermath of what happened at Sword & Cross, Luce has been hidden away by her cursed angelic boyfriend, Daniel, in a new school filled with Nephilim, the offspring of fallen angels and humans. Daniel promises she will be safe here, protected from those who would kill her. At the school Luce discovers what the Shadows that have followed her all her life mean – and how to manipulate them to see into her other lives. Yet the more Luce learns about herself, the more she realizes that the past is her only key to unlocking her future . . . and that Daniel hasn't told her everything. What if his version of the past isn't actually the way things happened . . . what if Luce was really meant to be with someone else?

The second novel in the addictive FALLEN series...where love never dies.
Torment was really more of the same for me. It wasn't bad, it just wasn't amazing. It opens with Luce at her new school in California where she's supposed to be hiding from the bad guys. Unfortunately, that means it's very, very similar to the first book since she goes through getting used to a new school and making new friends all over again. Also similarly, Luce makes a lot of the same mistakes. She constantly ignores warnings from Daniel to stay on school property and ends up putting everyone in danger - again.
Throughout this book, Luce is angsty and distrusting over Daniel's lack of physical presence by her side. Her immaturity is glaring throughout the book as she constantly goes off on Daniel over every little inconvenience to her. I'm just not her biggest fan. I mean, she's not a total bitch, she's just a teenager, I guess. Daniel remains one of my favorite characters. He tries so hard to keep Luce safe! Again, Adrianne was a super fun character!
Lauren Kate does a lot right with this book, she just doesn't do enough to keep me interested. I liked it... But despite the blurb's claims, the Fallen series isn't nearly addictive enough to make me read (or even listen to) the third book.
Notes on the Audiobook
Nothing much to add here either! I really enjoyed the narration provided by Justine Eyre and would certainly listen to something else performed by her.