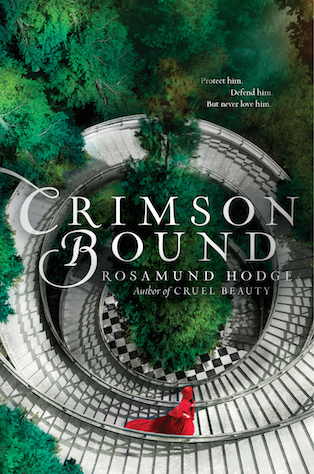 Title: Crimson Bound
Author: Rosamund Hodge
Publication Date: May 5, 2015
Publisher: Balzer + Bray
Pages: 448
Add to Goodreads
When Rachelle was fifteen, she was good—apprenticed to her aunt and in training to protect her village from dark magic. But she was also reckless— straying from the forest path in search of a way to free her world from the threat of eternal darkness. After an illicit meeting goes dreadfully wrong, Rachelle is forced to make a terrible choice that binds her to the very evil she had hoped to defeat.

Three years later, Rachelle has given her life to serving the realm, fighting deadly creatures in an effort to atone. When the king orders her to guard his son Armand—the man she hates most—Rachelle forces Armand to help her find the legendary sword that might save their world. As the two become unexpected allies, they uncover far-reaching conspiracies, hidden magic, and a love that may be their undoing. In a palace built on unbelievable wealth and dangerous secrets, can Rachelle discover the truth and stop the fall of endless night?

Inspired by the classic fairy tale Little Red Riding Hood, Crimson Bound is an exhilarating tale of darkness, love, and redemption.
Earlier this year I read
Cruel Beauty
, Rosamund Hodge's first novel, and absolutely loved it! When I saw that she was writing a new book, I decided I'd probably have to buy it, even though I'm not a huge fan of the Little Red Riding Hood fairytale. Hodge has such a unique style of storytelling that's always dark but somehow hopeful and it's amazing! That carries over into Crimson Bound, which is not just based on the fairytale of Red Riding Hood, but also on the story of
The Girl Without Hands
, which I'd never heard of. What she weaved together from those two tales was something truly unique.
Rachelle is the main character in Crimson Bound. At age 15 she was marked by one of the creatures of the Great Forest - the forestborn. When a person is marked they have to kill someone within three days or die. Since Rachelle is 18 in this story, it's safe to say she chose the first option. Now, though, she is a bloodbound and it's only a matter of time before she joins the evil in the Great Forest. Through some kind of loophole, she works for the king, which buys her time before she loses her heart and goes into the Forest.
Because she's, well... a murderer, Rachelle may not immediately be the most likable character. But I found myself sympathizing with her from the very beginning of the book and really enjoyed her as a character. She has super awesome powers because she's not entirely human anymore and is kind of a badass. It seems like a lot of people hated Rachelle for a certain physical decision she made with a certain man, but honestly? It didn't seem that shocking and it really wasn't that unbelievable. That's not to say it was morally okay, but she's part evil-forest-being so I'm not sure it's fair to hold her to human moral standards. Given the situation she was in and her background, I'm willing to forgive her one mistake.
Another one of the king's bloodbound is Eric - and he's the one in charge. Rachelle has been fighting alongside him for three years and they have a kind of attraction that she's never fully given into. But Eric is persistent throughout the book and he has a mean sarcasm streak. I actually kind of liked him for most of the book... until he turned into one of the most repulsive characters I've ever encountered. Even then though, I found myself sympathizing with him and could never fully hate him.
Of course, this wouldn't be a YA novel without a love triangle and the other love interest is Armand, a man who parades himself around the kingdom as a saint who has met the forestborn and lived. At first he comes off as kind of an arrogant jerk, but as the book goes on and more is revealed about his past, I found myself liking him more and more. This is a book where I actually felt the love triangle worked and I enjoyed it.
I could go on and on about all of the secondary characters who took this story to the next level, but we might be here all day, so I'll just move on.
Sometimes certain authors are able to write about their world in a way that makes me feel like I'm watching on a TV screen and can see every single thing as it's being described. That is how Rosamund Hodge writes. I loved every time she moved to a new location because every single one was described in such detail that I almost felt like I was there.
My favorite location was definitely the Great Forest. Despite the fact that it's supposed to be super scary I felt like it was just beautifully detailed and I almost kind of wished I could have tagged along with Rachelle just to see it in person! I also really enjoyed reading about all of the different places in the chateau. Reading about how the Forest manifested itself at different places inside made me feel like I was in Jumanji!
I do wish there was a little more explained about the relation of the Great Forest to the rest of the world - maybe a map? I felt a little disoriented when they went from one place to another and struggled to understand where exactly they were geographically. But I feel like that's a pretty minor complaint in the grand scheme of things.
I loved all of the unique backstory and magical lore presented in Crimson Bound! That was one of the things I really enjoyed about Cruel Beauty too - having to really think about everything I was being told and putting all the pieces together. I really felt Rachelle's race to beat the Devourer and really think the whole story was just really well done.
There was also a plot twist. Like, a HUGE plot twist! I didn't see it coming at all and when it actually happened I turned back and reread it probably three times to make sure I read it right. I just kind of sat there with my mouth hanging open for a few minutes, said "No way," and then finally moved on. Basically, it was brilliant.
Rosamund Hodge is amazing. That's all. She's a brilliant writer with some incredible ideas that make me stare at the closed book and wonder where in the world she comes up with these stories. But I'm so glad she's done it again! I'm a little disappointed that there don't seem to be anymore fairytale retellings on the docket. However, she is releasing a Romeo and Juliet retelling next year and that's high on my TBR list!