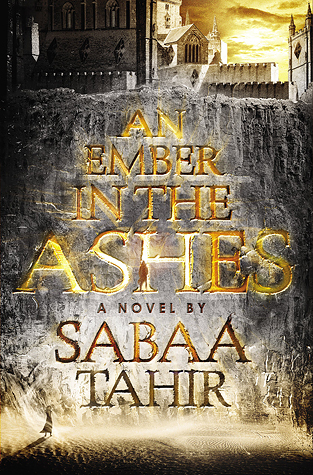 Title: An Ember in the Ashes
Author: Sabaa Tahir
Publication Date: April 28, 2015
Publisher: Razorbill
Pages: 446
Add to Goodreads
Reviews for book 2 and book 3
Laia is a slave. Elias is a soldier. Neither is free.
Under the Martial Empire, defiance is met with death. Those who do not vow their blood and bodies to the Emperor risk the execution of their loved ones and the destruction of all they hold dear.

It is in this brutal world, inspired by ancient Rome, that Laia lives with her grandparents and older brother. The family ekes out an existence in the Empire's impoverished backstreets. They do not challenge the Empire. They've seen what happens to those who do.

But when Laia's brother is arrested for treason, Laia is forced to make a decision. In exchange for help from rebels who promise to rescue her brother, she will risk her life to spy for them from within the Empire's greatest military academy.

There, Laia meets Elias, the school's finest soldier—and secretly, its most unwilling. Elias wants only to be free of the tyranny he's being trained to enforce. He and Laia will soon realize that their destinies are intertwined—and that their choices will change the fate of the Empire itself.
Every once in a blue moon I'll take a chance on a book without really knowing much about it. Sure, I saw
An Ember in the Ashes
around A LOT before it actually came out. In fact, I may have posted it for a WoW one week. But I have mad skills when it comes to not actually paying attention to what I'm looking at. When I saw
An Ember in the Ashes
on the shelf in early May, I grabbed it up before I could really see what I was getting myself into. Because, really, that cover is TO DIE FOR. Once I started reading, though, I knew I had made a really good decision.
This book is honestly a little out of my reading comfort zone. I don't read very much high fantasty or historical fiction and, while this is classified as Dystopia and High Fantasy, it's based quite heavily on Ancient Rome and had a historical fiction feel to it. The setting kind of reminded me of
The Winner's Curse
in that I couldn't really place it exactly. Sabaa Tahir really did a great job of mashing up different cultures with fantasy and making something totally unique. I feel like there's just so much to say about this book, but I'll try to keep it manageable...
The characters in
An Ember in the Ashes
were really something special. There are no Mary Sues here. At least I didn't think so. Laia is a Scholar - one of a community of people who is constantly suppressed by the Empire because of a long-ago war. Immediately, her world is torn apart by one of the Masks, a heavily trained soldier who has been bred for violence and hate. From chapter one Laia is forced to make difficult decisions that show her true character, and it isn't one that is necessarily immediately likable. Laia is very hard on herself throughout the book and lacks self-confidence, though this is understandable as her backstory is uncovered. She turned out to be a character I really ended up feeling strongly about as the book progressed.
Elias is the other main character in the book. He is a Mask in training, getting ready to graduate when the book begins. Unlike the other Masks (and his mother, who is the Commandant of the school), he fights against the nature that they are raised to embrace. He does not want to be a killer and plans to leave the school even though his life is at risk. This plan is quickly thwarted, however, and Elias spends the majority of the book trying not to become like the people he despises. Following Elias through this book was heart-wrenching. The decisions he had to make were absolutely unreal. I loved him from page one and he was really the one character that kept me up late into the night. The secondary characters in his story were so freaking good, and I ended up so attached to so many of them that it really didn't work out great for me...
While romance does have a place in the story, it is very secondary to the main plot. There was actually kind of a love square, with both Laia and Elias already having other possible interests before meeting. This did not detract from the story in any way though and was a very minor point.
I've already touched briefly on the world that's presented in
An Ember in the Ashes
, and... just WOW! This world is so amazing and real and I felt like I could see every place the characters were. I have come to absolutely adore books with maps because they help me to get into the setting - and this book had two! One of the entire world (country?) and one of the school itself. Sabaa Tahir is an amazing world builder, that's for sure!
Finally, let me say a few words about the plot of this book. It.Was.Heartbreaking. From the opening chapter, I just could not understand the absolute despair every character in this book was faced with. As the book went on I actually started to dread each new trial they faced, not wanting to see what terrible thing could come out of it. I think I can honestly say this is the first book that actually left me with an actual PAINED HEART on multiple occasions. Um... ow. But that's what made it so good! I felt for every single one of these characters. There were times when I didn't think I could even go on and I was just reading it! And then the ending just killed me! How am I supposed to wait a whole year for book two?
I would seriously recommend
An Ember in the Ashes
to basically everyone. I feel like it's a book that has something for lovers of multiple genres. And it will make you FEEL! Seriously, everyone go out and buy a copy so we can cry about the year-long wait together.