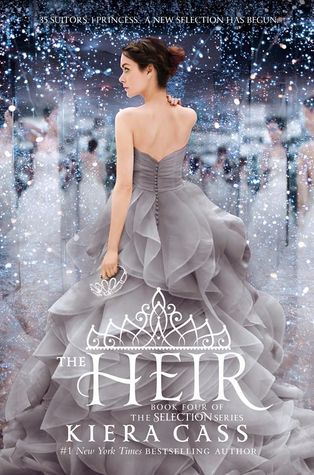 Title: The Heir (The Selection #4)
Author: Kiera Cass
Publication Date: May 5, 2015
Publisher: Harper Teen
Pages: 368
Add to Goodreads
Review for book 1, book 2, book 3, and
book 5
Twenty years ago, America Singer entered the Selection and won Prince Maxon's heart. Now the time has come for Princess Eadlyn to hold a Selection of her own. Eadlyn doesn't expect her Selection to be anything like her parents' fairy-tale love story. But as the competition begins, she may discover that finding her own happily ever after isn't as impossible as she always thought.
Let me start by saying that I was a HUGE fan of The Selection series. Sure, it wasn't anything super deep or life-changing, but it was a great series with characters who I loved and a story that kept me turning pages. When I heard that there was going to be a book four, I was SO EXCITED! It honestly never crossed my mind to be wary about another book being added to the series. When I saw what it was called, I thought the book would be about America and Maxon as they started their married life and had a kid. So imagine my surprise when I finally saw the cover and read the synopsis...
I'm really sorry to say The Heir was kind of a let down. While it wasn't a total loss, it was an unnecessary addition to an already great series and, quite frankly, I don't know what Kiera Cass was thinking. Let's start with what everyone else has been complaining about: Eadlyn.
America and Maxon were both pretty decent people in the original series. America came from humble beginnings and Maxon lived things that one would assume would make him want to be a better parent. And maybe that's where he went wrong. Maybe they both overcompensated for their own childhoods and that's how they ended up with a total spoiled brat with no redeeming qualities. Eadlyn is a total bitch from the first time she speaks in The Heir. All she does is whine about her terrible lot in life and how she doesn't want to be a queen or have a selection of her own. She's downright hateful to the boys who are competing for her and yet they're still interested. Her entire country hates her to the point of revolution and she has no idea why. There's an attempt at redemption for Eadlyn at the very last minute but it feels less than genuine. I didn't like her.
The boys of the Selection were just... lacking. There were so many of them, first of all, and Kiera Cass does next to nothing to help us get to know them. Very few details about each boy are included and Eadlyn goes from hating everyone to suddenly liking some of them without much explanation. It just didn't work. None of the romances that have come up so far have been believable at all and I don't much care who is even eliminated at this point.
Finally, there's America and Maxon. They're... okay, I guess. I've seen some people talk about how gushy they are for an "old couple" and how it's unrealistic. As someone who's a couple years from 30, I feel like these people must all be 16 because:
Maxon and America are under 40 in this book.
I know people their age who are very much in love.
Their mushy lovey stuff was okay with me and totally believable, especially after reading books 1-3. However, there was an age issue for me at the end of the book (possibly mildly spoilery). There is a "twist" at the end that is just absolutely ridiculous. These people are in their 30s, not their 70s. How old is Kiera Cass because I feel like she must be stuck in the group that thinks people pushing 40 are old and gross. Anyway...
I can't really say anything about the world building in the book because the entire thing took place in the same castle we've already come to know from the original trilogy. I guess I liked how the rooms were described...
As far as the story, I've already said it seems unnecessary. I did like seeing the Selection from the other side of things, but that was pretty much it. I honestly wish the fourth book had been a one-shot about America and Maxon's new baby and their life as a married couple. Because that would have been so much better.
This book is getting two stars from me because it did keep me turning pages and I enjoyed reading about America and Maxon, even if there were only small glimpses. I might read book five just to see what happens since I did read this one, but I certainly won't run out and track down a signed copy on release day like I did with this one. You really might not be missing anything by skipping this one...