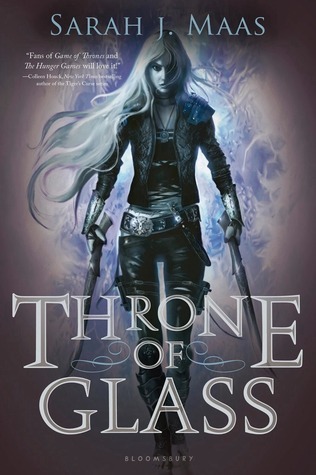 Title: Throne of Glass
Author: Sarah J. Maas
Publication Date: August 7, 2012
Publisher: Bloomsbury
Pages: 404
Add to Goodreads
"Nothing is a coincidence. Everything has a purpose. You were meant to come to this castle, just as you were meant to be an assassin."

When magic has gone from the world, and a vicious king rules from his throne of glass, an assassin comes to the castle. She does not come to kill, but to win her freedom. If she can defeat twenty-three killers, thieves, and warriors in a competition to find the greatest assassin in the land, she will become the King's Champion and be released from prison.
Her name is Celaena Sardothien.

The Crown Prince will provoke her. The Captain of the Guard will protect her.

And a princess from a foreign land will become the one thing Celaena never thought she'd have again: a friend.

But something evil dwells in the castle—and it's there to kill. When her competitors start dying, horribly, one by one, Celaena's fight for freedom becomes a fight for survival—and a desperate quest to root out the source of the evil before it destroys her world.
When I finished reading A Court of Thorns and Roses by Sarah J. Maas earlier this year, I was told by about ten million people that I NEEDED to read Throne of Glass. Of course, I've seen this series on tons of Top Ten lists and I've seen the beautiful cover at Barnes and Noble. I just didn't think I'd like it because I didn't know that I liked high fantasy. But lately I've discovered that I do like it after all! And I finally bought my own copy of this beautiful book.
It took much longer than I thought it would to get through Throne of Glass. To be honest, I read the first half and then put it back on the shelf, read a few more books, and then went back to it. The first half just really seemed to drag... Don't hate me! I realize that this is the set up for a series and that a lot of background had to be established, so I can definitely forgive the slight lag, especially since the second half was totally kick-ass!
Celaena is an amazing heroine who I totally fell in love with from page one. I love that she's a hard assassin who was able to survive death camps and compete with the biggest, baddest men the court could provide, but she's also a woman. She likes clothes and jewelry and dancing, while still being bigger and badder than all the other dudes. She gets an A+ in my book!
One thing I was really worried about with this book was the love triangle that I knew was coming. I have to say though, this was one place where it really worked. I could believe Celaena's relationships with both Chaol and Dorian because each was so very different. I thought both relationships were sincere and adorable! The one thing that did really bug me though... the angst. More and more I feel like I might be growing out of this tortured lover plot device. I did like their relationships! I just can't stand the whole "I love you but we can't be together for reasons x, y, and z" thing (reasons that are usually dumb).
The world that Sarah J. Maas created in Throne of Glass was pretty great too! I especially enjoyed getting to "explore" the secret tunnels and the glass castle! That being said, I do think that world building is something that Maas really did refine between the release of Throne of Glass and ACOTAR. The world of ACOTAR was amazing and I could picture it like I was there! I didn't get that kind of clarity with this book, although it was still good.
Finally, I recall seeing that Throne of Glass was a retelling of Cinderella, or at least it began that way. I didn't get Cinderella from this at all. If anything, the fact that she went to a ball was about the only parallel I was able to find. Maybe someone who knows more about this series can tell me if this is further developed later or if the retelling aspect was totally scrapped. Either way, the story is still really spectacular! I loved the magical elements in the story and cannot WAIT to see what all of this was building up to, because I feel like it's going to be something awesome.
All in all, I am glad that people would not leave me alone about this book! The beginning of it almost did me in, but in the end it was all worth it. I do feel like this book was a huge buildup to something even better, so I'm really excited to see what book two is all about!