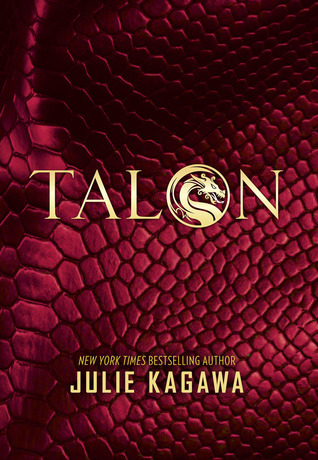 Title: Talon (Talon #1)
Author: Julie Kagawa
Narrator: Caitlin Davies, MacLeod Andrews, Chris Patton
Publication Date: October 28, 2014
Publisher: Harlequin Teen
Add to Goodreads
Reviews for book 2 and book 3
Long ago, dragons were hunted to near extinction by the Order of St. George, a legendary society of dragon slayers. Hiding in human form and growing their numbers in secret, the dragons of Talon have become strong and cunning, and they're positioned to take over the world with humans none the wiser.

Ember and Dante Hill are the only sister and brother known to dragonkind. Trained to infiltrate society, Ember wants to live the teen experience and enjoy a summer of freedom before taking her destined place in Talon. But destiny is a matter of perspective, and a rogue dragon will soon challenge everything Ember has been taught. As Ember struggles to accept her future, she and her brother are hunted by the Order of St. George.

Soldier Garret Xavier Sebastian has a mission to seek and destroy all dragons, and Talon's newest recruits in particular. But he cannot kill unless he is certain he has found his prey: and nothing is certain about Ember Hill. Faced with Ember's bravery, confidence and all-too-human desires, Garret begins to question everything that the Order has ingrained in him: and what he might be willing to give up to find the truth about dragons.
Talon is a book that has had my eye since it was first released last year. Let's be real. That cover is gorgeous! And it's even prettier in person because it's all shiny and perfect (dragons love shiny things). I just wasn't totally sure it was the book for me. I've heard it described as high fantasy AND contemporary, neither of which are at the top of my favorite genres list. But when I got a chance to listen to the audiobook I figured that it was time to see what all the hype was about.
This is definitely one of the more unique fantasies I've come across in my time as an avid reader. It really does seem to break genre boundaries and I really think it works. Talon is the story of Ember Hill and her brother, Dante, two dragons who are being integrated with human society. But there are rules. Lots of rules without any apparent purpose. Dante is willing to follow without question to the point of recklessness, but Ember isn't down with that.
I really loved Ember!! I thought she was believably badass while still being a teenage girl with teenage feelings (even if she didn't understand them). I felt like I could really identify her need to understand what was going on and why things were a certain way, and I could feel her frustration with being told to blindly trust the organization whose control she was under. I also really enjoyed her love interests (yes, there were two - this is YA fiction, after all).
At first Garret and Cobalt seemed like two very different people, but as the story progressed, they weren't that different after all and I could see how Ember was confused by their attentions. Garret and Cobalt both question everything, although one is slower to realize that things may not be as they seem. I think another reason why this was a love triangle that really worked because Ember did have to contend with her animalistic side as well as the part of her that had come to feel more human.
The world building was good, although there really wasn't much to build beyond normal California landscapes. Julie Kagawa did a great job of describing oceans and houses, I suppose. I'm really hoping that we get more insight into the dragon world in Rogue! I could really go for some more fantasy in my fantasy!
The story itself intrigued me almost immediately. I really loved feeling like I was going along with multiple characters in their quest to uncover conspiracies and truths. I am excited to find out what exactly the whole story is and why things are the way they are between Talon and the human organization, Saint George. Julie Kagawa has created a truly unique tale of dragons and humans in the present day with bad guys who are terrifying because they breathe fire and good guys who are honestly equally terrifying (humans are scary). One thing that kind of irritated me was Ember's constant use of "my dragon." I get it. You're a dragon. This is just a minor detail that kind of got annoying over the course of several hours of listening.
I enjoyed Talon despite being pretty unsure what I'd think! I do wish there had been a little more fantasy and a little less mall outings and smoothies, but I guess I knew what I was getting into. I am really looking forward to reading Rogue and finding out more about the apparently huge conspiracy behind everything! Oh, and more Cobalt! #teamcobalt for sure!
---
°o°
Notes on the Audiobook
°o°
All of the voice actors in this did a really good job, but I have to say that Caitlin Davies stood out! To be honest, I didn't realize that the guys were read by two different people until about 2/3 of the way through...