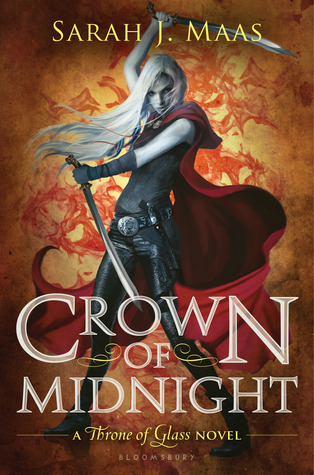 Title: Crown of Midnight (Throne of Glass #2)
Author: Sarah J. Maas
Narrator: Elizabeth Evans
Publication Date: August 27, 2013
Publisher: Bloomsbury
Add to Goodreads
Review for book 1
"A line that should never be crossed is about to be breached.

It puts this entire castle in jeopardy—and the life of your friend."

From the throne of glass rules a king with a fist of iron and a soul as black as pitch. Assassin Celaena Sardothien won a brutal contest to become his Champion. Yet Celaena is far from loyal to the crown. She hides her secret vigilantly; she knows that the man she serves is bent on evil.

Keeping up the deadly charade becomes increasingly difficult when Celaena realizes she is not the only one seeking justice. As she tries to untangle the mysteries buried deep within the glass castle, her closest relationships suffer. It seems no one is above questioning her allegiances—not the Crown Prince Dorian; not Chaol, the Captain of the Guard; not even her best friend, Nehemia, a foreign princess with a rebel heart.

Then one terrible night, the secrets they have all been keeping lead to an unspeakable tragedy. As Celaena's world shatters, she will be forced to give up the very thing most precious to her and decide once and for all where her true loyalties lie... and whom she is ultimately willing to fight for.
Throne of Glass was a book that I was really encouraged (read: forced) to read and finally gave into a couple months ago. I did enjoy it, but it didn't completely blow me away. Crown of Midnight was most definitely the better book of the two, but I still came away with a lot of questions.
This one picks up shortly after book one left off, with Celaena as the king's champion, going about "killing" all of his enemies. But is she really? In this book we see Celaena with a heart, which is a little confusing, to be honest, after book one went to such lengths to establish her as a badass assassin. Still, she continued to be an enjoyable character.
One of my favorite parts of the book is the romance with Chaol! The love triangle is GONE (thank goodness) and she can focus her attentions on the man she actually cares about. Dorian is still there, of course, but they remain (very awkward) friends, growing closer as more and more of the plot is revealed.
Nehemia is one character I actually didn't care for, and that may be going against the grain. She was pushy and downright rude at times, but I suppose she served her purpose. A few new, mysterious characters are also introduced and added a fantastic new element to the story!
While the world building was also really well done (again) I think my absolute favorite aspect of Crown of Midnight is the plot! The first book started to really bore me with the whole competition aspect that seemed to drag on and on. This one really picks up with the fantasy and mystery and it was really great! I loved each new piece of the puzzle that was introduced. There were still parts that I was left confused about.
It's revealed in this book that Celaena is Fae... and a queen. What? How were these things completely left out of the first book and until the very end of the second? Wouldn't we have learned this somehow through exposition. I feel like this is something Celaena would have thought about over the months. It almost feels like Maas had to add something in quickly to make the story longer. Didn't I read somewhere that this was never supposed to be a series? I like the direction that the story is taking now, but it seems a little thrown together, to be honest.
I definitely enjoyed this book more than Throne of Glass. The writing is terrific and kept me interested, the story is better, the characters are better... the whole thing is better! I can't wait to read book three!
---
°o°
Notes on the Audiobook
°o°
I really enjoyed Elizabeth Evans as a voice actor! She really brought the book to life and was never annoying or whiney (as some female narrators tend to be...). Her voice for each character was distinct and not too cheesy. I'd definitely listen to more books by her!