Welcome to Paper to Popcorn! Paper to Popcorn is not be your typical book vs. movie comparison. The focus is on retellings, although there will be some features of movie vs. the source material. Each chosen book/movie combo will battle it out in a showdown to prove which one is the best on its own merits. Posts will feature reviews of both the film and book, rating scales, a brief outline of differences between the two, and characters, and ultimately a victor will be chosen.
This week I'm featuring two Sleeping Beauty retellings that take very different directions: Princess of Thorns by Stacey Jay and Maleficent.
The Book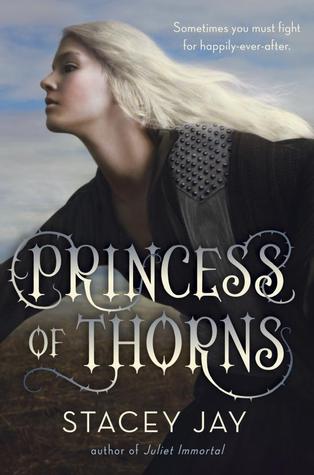 Title: Princess of Thorns
Author: Stacey Jay
Narrator: Karen Krause
Publication Date: December 9, 2014
Publisher: Delacorte Press
Add to Goodreads
Game of Thrones meets the Grimm's fairy tales in this twisted, fast-paced romantic fantasy-adventure about Sleeping Beauty's daughter, a warrior princess who must fight to reclaim her throne.

Though she looks like a mere mortal, Princess Aurora is a fairy blessed with enhanced strength, bravery, and mercy yet cursed to destroy the free will of any male who kisses her. Disguised as a boy, she enlists the help of the handsome but also cursed Prince Niklaas to fight legions of evil and free her brother from the ogre queen who stole Aurora's throne ten years ago.

Will Aurora triumph over evil and reach her brother before it's too late? Can Aurora and Niklaas break the curses that will otherwise forever keep them from finding their one true love?
In case you're new to the blog and don't know, I LOVE retellings! I haven't actually found one I completely hated because I feel like it's really hard to mess up a story that's already amazing. This take on Sleeping Beauty was one I was really excited to dive into. While Aurora was never my favorite princess, I was definitely excited to read this retelling! Unfortunately... it was weird.
First of all, this is not a Sleeping Beauty retelling. It's the story of Sleeping Beauty's daughter, who also happens to be named Aurora, for some reason. It seems like lazy planning to me, but whatever. In this story Aurora 1.0 was trapped by the evil queen (a troll here, instead of Maleficent) and forced to off herself in order to pass on her fairy magic to her daughter, Aurora 2.0, whose job it is to bring balance to the force (or something like that).
This.Book.Was.Weird. I wanted to love it so much! And I did love parts of it. Most notably, the romance between Aurora and Niklaas. I loved their relationship when he thought she was a boy and after! They were great! Unfortunately, all of the characters weren't great so that's really where the amazingness ends.
The evil Queen Ekeeta was ridiculous. Her sudden redemption was unbelievable and way too convenient and really took away all the greatness of her evil character. The book lost most of its credibility with that move. And that's not even the worst of it! Princess of Thorns makes the totally noble and amazing Prince Phillip out to be a completely disgusting pig. And I'm not okay with that.
The world building was okay, although I didn't feel like I got nearly enough fairytale elements for a fairytale retelling. The writing was good and tried really hard to be poetic, but that wasn't enough to save this really weird retelling that wasn't actually a retelling.
I feel like all this book did was recycle a character's name and use it to build a totally unrelated story, while calling it a retelling. Perhaps on its own this would be a good book, but trying to tie it into a preexisting story (and failing miserably) ruined it for me.
| Characters | Terrible | Just okay | Pretty good | Really good | Amazing! |
| --- | --- | --- | --- | --- | --- |
| Setting | Terrible | Just okay | Pretty good | Really good | Amazing! |
| Writing | Terrible | Just okay | Pretty good | Really good | Amazing! |
| Storyline | Terrible | Just okay | Pretty good | Really good | Amazing! |
| Cover | Terrible | Just okay | Pretty good | Really good | Amazing! |
| Overall Rating | 1/5 | 2/5 | 3/5 | 4/5 | 5/5 |
Actual rating: 2.5 stars



The Movie
Title: Maleficent
Director:
Robert Stromberg
Actors:
Angelina Jolie, Elle Fanning
Release Date: May 30, 2014
Runtime: 97 minutes
View on IMDB
"Maleficent" explores the untold story of Disney's most iconic villain from the classic "Sleeping Beauty" and the elements of her betrayal that ultimately turn her pure heart to stone. Driven by revenge and a fierce desire to protect the moors over which she presides, Maleficent cruelly places an irrevocable curse upon the human king's newborn infant Aurora. As the child grows, Aurora is caught in the middle of the seething conflict between the forest kingdom she has grown to love and the human kingdom that holds her legacy. Maleficent realizes that Aurora may hold the key to peace in the land and is forced to take drastic actions that will change both worlds forever.
For those who are still holding out on watching this live-action Sleeping Beauty retelling, I have one word for you: WHY?! I have to admit I was hesitant when this movie was announced, but then I saw Angelina Jolie in her full Maleficent getup and I was all but sold. Then I actually saw the movie and... wow. Sure, it has some issues, but overall I just love this new story behind the old villain.
The story of Maleficent is a really cool one! Here we learn how she became evil and also learned about her true fairy nature, which I doubt anyone guessed. Some people had a huge problem with the villain not being fully evil, but I think it made the fairytale more real, if that makes sense. I loved getting to know Maleficent as a person and not just as a dark presence. I felt for her and could honestly sympathize even with her cursing of Aurora, even if it was super evil.
Someone needs to hook up that casting director with an award, by the way, if that hasn't been taken care of. Have you SEEN Angelina??
She is perfection! Another wonderful cast was Elle Fanning as Aurora. I don't quite understand the appeal of the dark eyebrows with blonde hair, but to each her own, I guess. It's a little distracting, to be honest. Regardless, every member of the superb cast delivered convincing performances! In a role like Maleficent that could easily go over the top to ridiculous, I felt like it was just right. I also really enjoyed the three pixies (even if one was Umbridge...)!
My only real complaint is the CGI. While most of it was quite convincing, a lot of the characters, including the pixies, were very obviously fake and cartoonish. Then again, maybe that's the look Disney was going for. Some of the action scenes also came across as pretty video gamey, but that can be forgiven in an otherwise amazing movie!
This is most definitely a movie I recommend to any fan of fairytale retellings or fairytales in general. It's one of the few movies that I can watch over and over!
| Cast | Terrible | Just okay | Pretty good | Really good | Amazing! |
| --- | --- | --- | --- | --- | --- |
| Cinematography | Terrible | Just okay | Pretty good | Really good | Amazing! |
| Screenplay | Terrible | Just okay | Pretty good | Really good | Amazing! |
| Performances | Terrible | Just okay | Pretty good | Really good | Amazing! |
| Music | Terrible | Just okay | Pretty good | Really good | Amazing! |
| Overall Rating | 1/5 | 2/5 | 3/5 | 4/5 | 5/5 |
Noteable Differences
Maleficent is an actual Sleeping Beauty retelling...
The Evil Queen is a troll in Princess of Thorns and a fairy in Maleficent.
Aurora 1.0 doesn't appear in Princess of Thorns, but is a main character in Maleficent.
Prince Phillip is basically a bad guy in Princess of Thorns, but is just a (not bad) boy in Maleficent.
There is no real central romance in Maleficent.
The Bottom Line
I was actually super surprised by this outcome. Yes, I loved Maleficent, but I expected to LOVE this Sleeping Beauty retelling too. It was a total letdown and left no question about who the winner would be. Maleficent is an amazing original story and I can't wait to see what Disney does with future reimaginings.