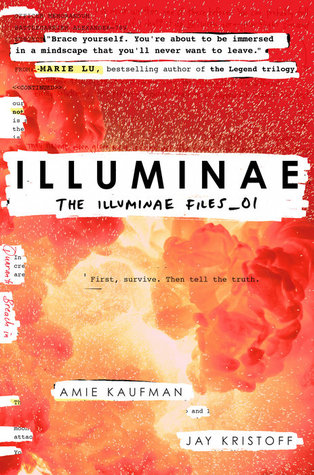 Title: Illuminae (The Illuminae Files #1)
Author: Amie Kaufman & Jay Kristoff
Publication Date: October 20, 2015
Publisher: Knopf Books for Young Readers
Pages: 608
Add to Goodreads
Reviews for book 2 & book 3
//I received this book from Netgalley in exchange for an honest review//
This morning, Kady thought breaking up with Ezra was the hardest thing she'd have to do.

This afternoon, her planet was invaded.

The year is 2575, and two rival megacorporations are at war over a planet that's little more than an ice-covered speck at the edge of the universe. Too bad nobody thought to warn the people living on it. With enemy fire raining down on them, Kady and Ezra—who are barely even talking to each other—are forced to fight their way onto an evacuating fleet, with an enemy warship in hot pursuit.

But their problems are just getting started. A deadly plague has broken out and is mutating, with terrifying results; the fleet's AI, which should be protecting them, may actually be their enemy; and nobody in charge will say what's really going on. As Kady hacks into a tangled web of data to find the truth, it's clear only one person can help her bring it all to light: the ex-boyfriend she swore she'd never speak to again.

Told through a fascinating dossier of hacked documents—including emails, schematics, military files, IMs, medical reports, interviews, and more—Illuminae is the first book in a heart-stopping, high-octane trilogy about lives interrupted, the price of truth, and the courage of everyday heroes.
I love that Jay Kristoff calls Illuminae "a YA Sci-Fi... thing," because that's exactly what it was. This book has been on my radar ever since I saw who the other author was. Even though I'm not a huge fan of science fiction, Amie Kaufman's Starbound series is absolutely amazing and I will read anything she ever writes. Ever. I didn't know what to expect from this one, though. The synopsis sounds awesome, but it really doesn't reveal much. All I knew was that it would be really long, really weird, and really awesome. And I was really right. I feel like I can't say too much because this is a really easy book to spoil, but I'll do what I can!
This book starts off weird. It's a little jarring to be thrown directly into documents and emails and interviews. At first I didn't know if I'd be able to adjust - it was just way different than what I normally read. The writing style did make the reading go by insanely fast. I think I finished this book in two days in between a trip to Disney and 18 hours of driving. Once I started, it was really hard to stop!
Kady and Ezra are the two main characters throughout this reading experience (because it really is an experience). They are recently broken up and trapped on two different ships with only intermittent (and probably illegal) email and IM communications between them. It's really incredible that a relationship and a romance was able to exist in this kind of book, but my heart was totally invested in theirs. I loved what these two built amidst such dire circumstances.
Illuminae has it all - action, adventure, thrills, and romance. There was so much suspense building up to the ending... Artificial Intelligence is an area that both excites and terrifies me, and this book really plays on those fears. The AI is really frightening but is also sentient enough to have a distinct personality. Somehow the AI became a main character in Illuminae - one I actually found myself feeling for. And you know Amie Kaufman had to throw in one of her heart-stopping, tear-jerking moments that she is quickly becoming famous for (at least in my mind).
Amie Kaufman has struck once again and solidified my devotion to her beautiful books. I say again: I will read anything this woman writes. I've never read anything else by Jay Kristoff, but I certainly will be keeping an eye out for him in the future! Definitely check this one out no matter what your feelings are on Sci-Fi! I really doubt you'll be disappointed!