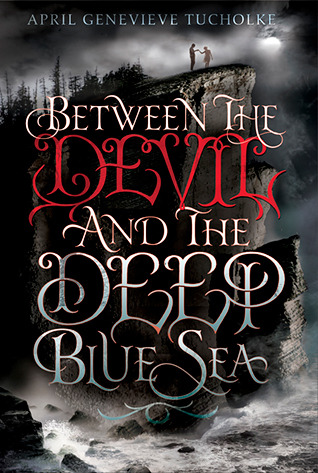 Title: Between the Devil and the Deep Blue Sea
Author: April Genevieve Tucholke
Publication Date: August 15, 2013
Publisher: Dial
Pages: 360
Add to Goodreads
You stop fearing the devil when you're holding his hand…

Nothing much exciting rolls through Violet White's sleepy, seaside town… until River West comes along. River rents the guest house behind Violet's crumbling estate, and as eerie, grim things start to happen, Violet begins to wonder about the boy living in her backyard.

Is River just a crooked-smiling liar with pretty eyes and a mysterious past? Or could he be something more?

Violet's grandmother always warned her about the Devil, but she never said he could be a dark-haired boy who takes naps in the sun, who likes coffee, who kisses you in a cemetery... who makes you want to kiss back.

Violet's already so knee-deep in love, she can't see straight. And that's just how River likes it.

Blending faded decadence and the thrilling dread of gothic horror, April Genevieve Tucholke weaves a dreamy, twisting contemporary romance, as gorgeously told as it is terrifying—a debut to watch.
The Devil and the Deep Blue Sea caught my eye initially with its breathtaking cover and a promise of gothic horror, which I have generally found to be beautiful. I wasn't quite sure what I was getting into, but I went into it with an open mind and most definitely found myself satisfied at the end.
Violet and her brother live on a cliff overlooking the sea. And they live there alone. Their parents are off in France doing artsy things (they probably should not have had children). Meanwhile, the bills are stacking up and something has to be done. To keep themselves afloat without their parents to help them, Violet decides to rent out the guest house, which is where River comes in. From the very beginning, I really liked River. There was something a little off about him and I found myself often annoyed with his constant question evasions. Still, there was something incredibly romantic about him and I could totally sympathize with Violet's complete inability not to fall in love with him.
The mystery surrounding River really made this book's horror elements unique and amazing. The atmosphere of the small town the events took place in felt so realistically creepy... it was most definitely one of the better worlds I've read in a semi-contemporary setting. I was on edge from the very first chapter while also feeling wrapped up in the romance. Tucholke's writing plays no small part in the mood of this book! I found myself completely immersed in this world and had a hard time putting the book down. Something about her writing style just sucked me in!
And then that story... I had no clue what I was getting into with this one and I was totally blown away by the unique plot of The Devil and the Deep Blue Sea. This is one of those books that doesn't leave me much room in the review to tell you -why- it's so good without giving too much away and ruining it (which might be why I had no idea what to expect). Just trust me on this one - you want to read it!
I love it when I have no expectations and find myself in the middle of a really unexpectedly awesome book! I won't say it's perfect, but I did really enjoy it and am definitely planning to pick up the sequel. If you're a fan of gothic horror that isn't too terribly scary and includes a little romance, definitely give this one a try!