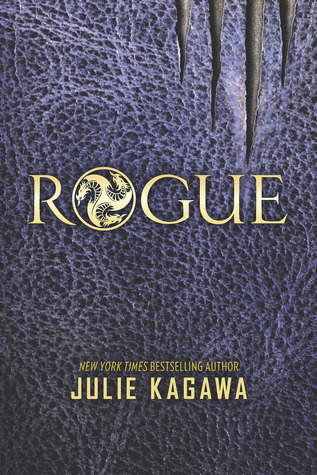 Title: Rogue (Talon #2)
Author: Julie Kagawa
Narrator: Caitlin Davies, MacLeod Andrews, Chris Patton
Publication Date: April 28, 2015
Publisher: Harlequin Teen
Add to Goodreads
Reviews for book 1 and book 3
From the limitless imagination of bestselling author Julie Kagawa comes the next fantastic adventure in the Talon Saga.

Deserter. Traitor. Rogue.

Ember Hill left the dragon organization Talon to take her chances with rebel dragon Cobalt and his crew of rogues. But Ember can't forget the sacrifice made for her by the human boy who could have killed her—Garret Xavier Sebastian, a soldier of the dragonslaying Order of St. George, the boy who saved her from a Talon assassin, knowing that by doing so, he'd signed his own death warrant.

Determined to save Garret from execution, Ember must convince Cobalt to help her break into the Order's headquarters. With assassins after them and Ember's own brother helping Talon with the hunt, the rogues find an unexpected ally in Garret and a new perspective on the underground battle between Talon and St. George.

A reckoning is brewing and the secrets hidden by both sides are shocking and deadly. Soon Ember must decide: Should she retreat to fight another day…or start an all-out war?
I read Talon back in August after seeing Rogue's beautiful self lining the shelves basically everywhere. While I did enjoy Talon a lot, I had kind of a hard time with the contemporary setting. I usually like to keep my fantasy firmly in Fantasyland. I think that's the reason that I enjoyed Rogue even more. While the second book is still set firmly in the 21st century, it has a much more fantastic feel.
All of the characters continue to be pretty awesome in this book and, most importantly, there's a lot more of Cobat. This book, as its name might suggest, focuses heavily on Cobalt and his backstory. We learn about his time in Talon, how he became a rogue dragon, and how he came to be teamed up with Wes. I tend to get a little irritated with excessive flashbacks and I'll admit that did happen here a time or two as I got more invested in the present-day story. Still, I did enjoy getting to know more about Cobalt!
The love triangle is going strong in Rogue and it honestly irritated me a bit at times. While I understand that Ember is a dragon and has different ways and emotions than a normal human would, I couldn't quite get on board with her constant back and forth between Garret and Cobalt. Her actions were, frankly, confusing at times. Maybe that was intentional though, since Ember was going through some confusing things.
One of the things I really enjoyed about Rogue vs. Talon was that this book had a lot less shopping trips and a lot more action. From start to finish, the group is on the run from both Talon AND St. George and they can never be quite sure who to trust. There are tons of miscommunications and half-truths that add to the already dramatic plot. Ember really shows her Viper skills a few times and basically proves that she's a total badass who can probably take care of her self (and those around her) just fine. Still, she isn't afraid to let the men in her life step in when she needs help, which is something I can definitely respect.
The Talon series is really my first dragon series and I am in love with the uniqueness of this story! I am dying to read part three and see what comes of this (sometimes ridiculous) love triangle! As I've already pointed out, this book was a lot less teeny-bopper and a lot more all action all the time. I highly recommend this series, at least based on what I've read so far.
---
°o°
Notes on the Audiobook
°o°
When I listened to Talon, I didn't realize that there were multiple male narrators. Knowing to listen for it, the different guys definitely stood out. Overall, I really enjoyed the voice acting! The one thing that got under my skin was the way Caitlin Davies says "room." She pronounces it like "rum" and she says it about 683 times. But... you know. That's just me.