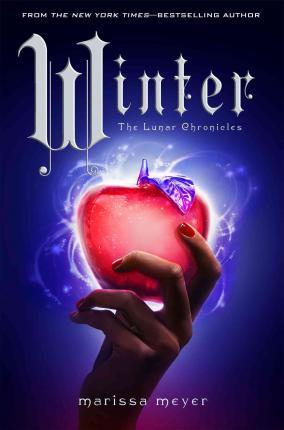 Title: Winter (The Lunar Chronicles #4)
Author: Marissa Meyer
Publication Date: November 10, 2015
Publisher: Feiwel and Friends
Pages: 827
Add to Goodreads
Reviews for book 1, book 2, book 3, & book 3.5
Princess Winter is admired by the Lunar people for her grace and kindness, and despite the scars that mar her face, her beauty is said to be even more breathtaking than that of her stepmother, Queen Levana.

Winter despises her stepmother, and knows Levana won't approve of her feelings for her childhood friend—the handsome palace guard, Jacin. But Winter isn't as weak as Levana believes her to be and she's been undermining her stepmother's wishes for years. Together with the cyborg mechanic, Cinder, and her allies, Winter might even have the power to launch a revolution and win a war that's been raging for far too long.

Can Cinder, Scarlet, Cress, and Winter defeat Levana and find their happily ever afters?
Winter, how I love thee. Let me count the ways.
Seriously though, this series. It's amazing. Every time I read one of these books, it starts out slow, I have a brief moment of uncertainty, and then it takes off and I'm sucked in and I'm awake until 3am. It's a problem.
Winter picks up right where Cress left off, with Winter and Scarlet becoming sort of friends, and Cinder and crew working on a plot to overthrow the evil queen. While this is the final chapter in a four book series and does a fantastically amazing job of wrapping things up over 800+ pages, it is also the story of Winter, the princess of Luna, and Jacin, a castle guard. I don't know why, but no matter how many times Jacin was described as pale and blonde, I couldn't help but picture him as a huge tall, dark, and handsome guy. My brain is still working this one out. Despite my inability to picture Jacin as Marissa Meyer intended, I completely adored their love story. In fact, I think that they might be my favorite couple out of the entire series. Maybe. I don't know.
I honestly spent most of the book trying to decide how I felt about Winter as a character. I constantly went back and forth by almost being repulsed by her complete insanity and the actions that came with that, to admiring her for refusing to use her Lunar gift to the point where she WAS insane. To be honest, I kind of agree with the others who said there had to be a way she could've used her gift enough to -not- be insane, while also not hurting people I mean, I can't believe every person on Luna is evil because they use their gift. Cinder isn't!
Speaking of Cinder... What a total badass. I mean, wow. She surpasses my expectations in every single book I read. I love her spirit and her humility and her, um, her Kai. Can I say that? Is that allowed? While he did feature from the beginning of this series, I feel like I got to know Kai so much better in this final book. I loved seeing him as the emperor and making necessary sacrifices while also putting so much faith in Cinder. It's just... swoony.
Honestly, the most impressive thing about Winter is how it brings together every single character from the first three books and isn't overwhelming. Cress, Iko, Kai, Scarlet, Wolf, Thorne, Cress, Winter, and Jacin, all play major roles and I never found myself confused as to who was who or what was going on. Scarlet and Wolf's story was a little uncomfortable at times, but it had a satisfying conclusion. The same can be said for Cress and Thorne. These two... their cluelessness is something that might have irked me a little in another book, but here it was adorable and I loved every second of it! Levana is terrifying and insane as always and I don't think I have ever rooted against a villain so hard in my life. I truly don't have time to talk about all of the characters, so I'll just leave it there. Suffice it to say, I loved all of them. A lot. And I'm going to be sad to see them go.
The plot of Winter is just amazing. While I was terribly daunted by picking up a book that came in at 827 pages (not the kind of thing I usually spring for), I can definitely see why every single page was needed. The beginning was a little slow for me, but I honestly feel like all of the detail included was necessary for the big picture. The slow takeover of Luna, the final, heart-stopping battle, and the way everything came together was more perfect than I could have imagined! It's full of action and romance. I laughed, I gasped, I (almost) cried. Winter is the book you've been waiting for!
And of course, we FINALLY get to see Luna in all of it's glory. I feel like the series has slowly been building up to some kind of big reveal of Luna in its entirety and the waiting was all worth it because Luna is breathtaking! I loved the descriptions of each sector, the tunnels, even the caves! The amount of thought that went into making this fantasy world is really pretty impressive.
I could really go on and on (and on and on) about my feelings for Winter and The Lunar Chronicles in general, but I'll stop. I love this series and I'm kind of devastated that it's at an end. I binged Fairest in a day after finishing this one and I'll be pre-ordering Stars Above in the very, very near future. If you haven't started this series yet, I really hope you'll give it a chance!