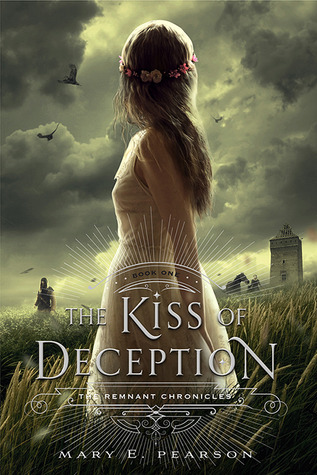 Title: The Kiss of Deception (The Remnant Chronicles #1)
Author: Mary E. Pearson
Publication Date: July 8, 2014
Publisher: Henry Holt and Co.
Pages: 489
Add to Goodreads
Reviews for book 2 & book 3
Checlie's Review
A princess must find her place in a reborn world.

She flees on her wedding day.

She steals ancient documents from the Chancellor's secret collection.

She is pursued by bounty hunters sent by her own father.

She is Princess Lia, seventeen, First Daughter of the House of Morrighan.

The Kingdom of Morrighan is steeped in tradition and the stories of a bygone world, but some traditions Lia can't abide. Like having to marry someone she's never met to secure a political alliance.

Fed up and ready for a new life, Lia flees to a distant village on the morning of her wedding. She settles in among the common folk, intrigued when two mysterious and handsome strangers arrive—and unaware that one is the jilted prince and the other an assassin sent to kill her. Deceptions swirl and Lia finds herself on the brink of unlocking perilous secrets—secrets that may unravel her world—even as she feels herself falling in love.
I have owned The Kiss of Deception since last May. That's almost nine months that I could have already known this wonderful story. I could have known these wonderful characters and their wonderful world, but I didn't because I picked this one up, read a couple chapters, and put it back down. (This is
the curse of being a mood reader
.) Eventually, though, I did pick it up and I am SO glad I did!
Princess Lia (or just Lia) has been trapped by her parents in an arranged marriage with the prince of a neighboring kingdom. She isn't at all interested in this arrangement, so she takes things much further than other royals before her by running away from it all and starting a new life with her friend in another town. While I think Lia's decision to run away from her kingdom and start a new life may have (possibly) been the slightest bit impulsive, I did really love her as a character. I enjoyed watching her learn to navigate her new life as a commoner working as a tavern maid as opposed to her previous lavish existence. I found her to be sympathetic, even though she was coming from a position that most people couldn't identify with, and I loved the relationship between Lia and Pauline. My only real problem with Lia is that she continues to be an impulsive character (sometimes irrationally so) right up until the end.
There are two possible love interests in this story - one is an assassin and one is a prince. Both these men are fully aware of Lia's true identity, but deception abounds and she has no idea who
they
are. While she is creating her new life, the assassin and the prince are both have very conflicting feelings about Lia. This is a love triangle that works within the story. Both these characters are so very different that it's really easy to see how Lia could fall for each of them. Kaden and Rafe are both such excellent characters in their own ways. Personally, I loved both of them! I was really glad that the love triangle was not there throughout the entire book, though. Although her girlfriends are pushing her in both directions, Lia does eventually make up her mind (I haven't made my mind up yet, though).
The world of The Remnant Chronicles is spectacular!! I loved every single place they visited whether or not Lia was happy about her location. Not only has Mary E. Pearson created incredible landscapes, she's created unique mythology and even wildlife to accompany each place. I was so thankful for the map on the inside cover and found myself constantly referring to it. I felt like I could picture each place on the map that was described and that is really one of the most important things to me when I read fantasy!
And then there's the story itself. This one is so good! Unfortunately, I ruined what I suppose was going to be the big twist by snooping around the internet, but that didn't mess up the experience at all for me. Even though I knew what Lia didn't, I still found myself being shocked for her each time something new was revealed. There is so much unique mythology in The Kiss of Deception and little bits of it are sprinkled at the beginning of each chapter. It really makes this world feel genuine. But the very best part about this book was that it made me FEEL! There is a particular scene near the end that basically ripped my heart out of my chest and stomped on it and that truly doesn't happen much.
The Kiss of Deception is a truly fantastic book! The only issue I had with it was the beginning being a little slow for me. Once events really got moving, though, I really enjoyed it! The writing was immersive and I really even loved the multiple perspectives of the book, which I usually cannot get into. I definitely recommend this to fantasy fans and I cannot WAIT to read book two!