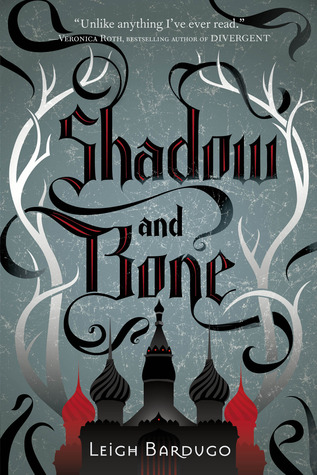 Title: Shadow and Bone (The Grisha #1)
Author: Leigh Bardugo
Narrator: Lauren Fortgang
Publication Date: June 5, 2012
Publisher: Henry Holt and Co.
Add to Goodreads
Reviews for book 2 and book 3
Surrounded by enemies, the once-great nation of Ravka has been torn in two by the Shadow Fold, a swath of near impenetrable darkness crawling with monsters who feast on human flesh. Now its fate may rest on the shoulders of one lonely refugee.

Alina Starkov has never been good at anything. But when her regiment is attacked on the Fold and her best friend is brutally injured, Alina reveals a dormant power that saves his life—a power that could be the key to setting her war-ravaged country free. Wrenched from everything she knows, Alina is whisked away to the royal court to be trained as a member of the Grisha, the magical elite led by the mysterious Darkling.

Yet nothing in this lavish world is what it seems. With darkness looming and an entire kingdom depending on her untamed power, Alina will have to confront the secrets of the Grisha . . . and the secrets of her heart.

Shadow and Bone is the first installment in Leigh Bardugo's Grisha Trilogy.
Do you ever read a book and then you just sit there at the end and have a fight with yourself over how you could have possibly waited so long to start?? Well, that was basically me with Shadow and Bone. I felt the pain all over again when I was getting ready to write this review and realized this book came out in 2012. I'm not sure why I put this one off for so long. Something about the synopsis just didn't convince me that it was a series I'd enjoy, but when I got the chance to listen to the audiobook, I decided my time had come.
This is the story of Alina Starkov and her rise from a sickly-looking orphan who basically sucks at everything to possibly the most powerful Grisha ever. Alina is a character that I really, really enjoyed. Female leads can be so hit or miss for me. Either they're too dainty and unable to do anything for themselves or they're too badass and refuse help from anyone. Alina is neither of those extremes and was the kind of girl who I think I'd like to be friends with. Despite the power she finds herself saddled with, she's humble and kind and genuinely desires friendship and to do what's right. I enjoyed every minute I got to spend with her!
My other favorite character in Shadow and Bone was actually the Darkling. What can I say? I have a thing for the dark, tortured type! The Darkling is the one who leads the Grisha and has the ability to summon darkness, something none of the others can do. He's terrifying and charming and (obviously) completely gorgeous. He also seems to have a thing for Alina from the very beginning, despite the fact that he admits to being quite a bit older than her. I was never quite sure about the Darkling while reading this book. Is he good? Is he bad? Is he really just misunderstood? Events unfold and one of these is confirmed, but I'm still not completely sold.
The other main character in Shadow and Bone is Mal, the best friend that Alina has grown up with. Orphaned together, they have always been friends, although Mal is the opposite of Alina. He's good at everything and everyone loves him. All the ladies swoon and Alina hides her feelings, that she might like him a little more than as a friend. Mal is missing from a good chunk of the book but eventually shows back up and becomes an important player. I didn't have any specific qualms with Mal, I just didn't love him and I didn't particularly love him and Alina as a couple.
I loved the story of the Grisha and the mythology of their world. While magic is something that is done over and over and over, the Grisha were unique and Leigh Bardugo has done a fantastic job of explaining their abilities. The way Alina fit into the Grisha world was also incredible and I loved seeing the events unfold. The writing was engaging and, although the book wasn't constantly filled with action, I didn't feel like there was ever a dull moment.
The world of the Grisha itself was so detailed and well formed that I felt like I could imagine it. Once again, a map included in the front of the book (I also own a hard copy) added a lot to the experience. I wish every book had a map in the front! I have a feeling that with each book more and more of the world is going to unfold and I really can't wait to learn about the lands outside of those I've already seen!
I am so excited to see where this story goes next! Like I said, I'm still not completely sold on the Darkling being 100% evil. Even if he is, I'm not convinced that he still isn't the best one for Alina to end up with. (I'm really not a fan of Mal.) Shadow and Bone ended on such a high note, there is no doubt that I'm going to have to jump directly into Siege and Storm to see what happens next! If you're still waiting on this one, it's really time to go for it! You will not regret it!