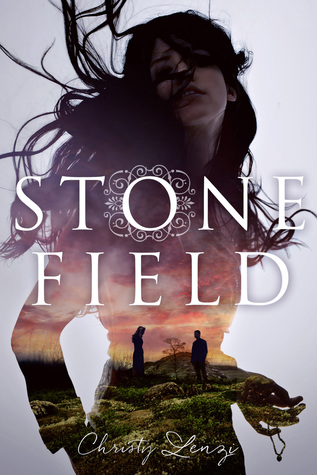 Title: Stone Field
Author: Christy Lenzi
Publication Date: March 29, 2016
Publisher: Roaring Brook Press
Pages: 320
Add to Goodreads
//This book was provided by the author in exchange for an honest review//
In a small town on the brink of the Civil War, Catrina finds a man making strange patterns in her family's sorghum crop. He's mad with fever, naked, and strikingly beautiful. He has no memory of who he is or what he's done before Catrina found him in Stone Field. But that doesn't bother Catrina because she doesn't like thinking about the things she's done before either.

Catrina and Stonefield fall passionately, dangerously, in love. All they want is to live with each other, in harmony with the land and away from Cat's protective brother, the new fanatical preacher, and the neighbors who are scandalized by their relationship. But Stonefield can't escape the truth about who he is, and the conflict tearing apart the country demands that everyone take a side before the bloodbath reaches their doorstep.

Inspired by Emily Bronte's Wuthering Heights, Stone Field is a passionate and atmospheric story of how violence and vengeance pervert the human spirit, and how hatred can be transcended by love.
Wuthering Heights has long been my favorite classic novel. I was forced to read it against my will in high school and ended up falling head-over-heels in love with Heathcliff and Cathy! I also happen to be a retelling junkie. So when I saw Stone Field on a Goodreads list several months ago, I knew I absolutely HAD to read it!
This YA retelling, set in America at the beginning of the Civil War, retains a lot of the same tone of the original. Cathy has been swapped out for Catrina and Heathcliff is now Stonefield. While this story is reminiscent of its source material, it is still an entirely new story that can certainly hold its own.
Catrina (also known as Cat) is a strong-willed girl who feels guilt over her mother's death and refuses to be held down or be made into a normal, submissive woman. She wears pants and runs free in the woods, making art out of whatever she can find. Her extremely religious brother disapproves, of course, and tries at every turn to reign her in. Catrina's world is turned on it's head when a amnesiac (maybe-Indian, maybe-Mexican) stranger appears. Taking the name of Stonefield, he makes himself a part of Catrina's life and from there things get really wild.
Despite my love of Wuthering Heights' characters, I had a little bit of a disorienting relationship with Stone Field's. Catrina made me extremely uncomfortable and there were times when I legitimately wondered if she was mentally stable or if she really should do a stint in an institution. Her constant running around naked in front of everyone and carving people's names into her body really made me doubt her mental soundness. The relationship between her and Stonefield required some suspension of disbelief, which I was willing to give. I can accept that they were soulmates and knew instantly, but insta-love is still a hard pill to swallow. As were her actions towards Stonefield later in the book. I may not be an expert on love, but Cat's constant decisions to hurt Stonefield via hurting herself (and others) just seemed counter-intuitive and overly childish. I'm all for a little bit of angst, but most of the decisions made in this book were not totally believable and made sympathizing very difficult.
The character I really loved was Effie, Catrina's best friend and aspiring doctor, despite her double minority status. She seemed to be the most level-headed, down-to-earth character out of all involved. I really wish there had been more exploration of her relationship with Catrina's brother. (That's another irrationally childish decision - maybe it runs in the family?)
Stone Field is a book with a very heavy emphasis on religious extremeism. While Catrina does believe in God, she wants nothing to do with him. Everywhere she turns, however, there is someone trying to force her into submission and, at one point, even trying to force a (non-existent) demon out of her! Effie and Catrina's father are the only religious characters who are not made to look completely insane, so fair warning if that sort of thing bothers you!
Cat and Stonefield's story was very interesting, despite their sometimes-childish behavior. I was up late turning pages on more that one night (and honestly may have finished it in one sitting, had I not been in the midsts of a move). This is the story of star-crossed lovers with the entire world against them (or so it seems). It is not a happily ever after fairytale, which shouldn't be much of a surprise, honestly. It is wild and gritty and sometimes downright dark.
I really enjoyed reading this incredibly unique retelling of my favorite classic, even if I didn't love the characters all the time. I would definitely suggest reading this if you are a fan of Wuthering Heights or forbidden love in general!