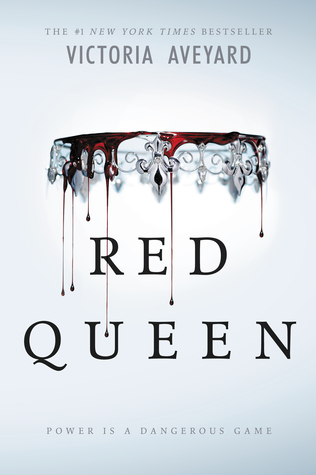 Title: Red Queen (Red Queen #1)
Author: Victoria Aveyard
Narrator: Amanda Dolan
Publication Date: February 10, 2015
Publisher: HarperTeen
Add to Goodreads
Review for book 2
This is a world divided by blood – red or silver.

The Reds are commoners, ruled by a Silver elite in possession of god-like superpowers. And to Mare Barrow, a seventeen-year-old Red girl from the poverty-stricken Stilts, it seems like nothing will ever change.

That is, until she finds herself working in the Silver Palace. Here, surrounded by the people she hates the most, Mare discovers that, despite her red blood, she possesses a deadly power of her own. One that threatens to destroy the balance of power.

Fearful of Mare's potential, the Silvers hide her in plain view, declaring her a long-lost Silver princess, now engaged to a Silver prince. Despite knowing that one misstep would mean her death, Mare works silently to help the Red Guard, a militant resistance group, and bring down the Silver regime.

But this is a world of betrayal and lies, and Mare has entered a dangerous dance – Reds against Silvers, prince against prince, and Mare against her own heart ...
In February 2015, Red Queen hit the shelves with a BANG. Every single reader I knew was talking about it and rating it five stars... which was why I have been avoiding it like the plague since then. Super hyped books scare the crap out of me because most of the time when I go into a book with really high expectations, I get let waaaaay down (which sucks). When Glass Sword came out this year, I decided it might finally be time to give Red Queen a chance, especially since I had the option to listen to the audiobook! I am happy to report that this book was actually really freaking awesome.
My biggest fear going into this was exactly what I've read on the bad reviews I stalked: that it was a ripoff of The Selection and The Hunger Games. Almost immediately I realized that those were not really fair assessments of Red Queen. Yes, there are some teenagers trying to kill each other. Yes, there is a chapter where girls compete for the privilege of marrying the crown prince. But that's really where the comparisons end.
This is the story of Mare Barrow, a Red, and her immersion into the world of the Silvers. Through circumstances out of her control, Mare finds herself living in the Silver world in a position very close to the royal family. Mare was an enjoyable protagonist, thank goodness. She was neither too helpless nor too bitchy, but tried to fit into her new world while simultaneously gathering information about what was -really- going on. Although she did try to see the best in those around her, she remained wary, and of course this wouldn't be a YA dystopian series without at least one love triangle!
The two real love interests in Red Queen are the two princes, Cal and Maven. Cal is the older brother who is next in line for the throne and a bred soldier with a hot temper. Maven is the younger, more gentle brother who sympathizes with the Reds. Mare's relationship was pretty set in stone early on, but that didn't stop her from feeling for both of the guys and finding herself attracted to different qualities in each of them. I didn't really mind the love triangle too much since I felt like it worked okay within the story. Luckily, the triangle was mostly resolved by the end of this first book.
Victoria Aveyard did a really fantastic job setting up the world of this book. Without being overly wordy in her descriptions, she painted landscapes that I could easily picture in my mind. I especially liked the village that Mare grew up in, the Stilts. The worlds of the Reds and Silvers were very divided in terms of class and I really felt like they were very well formed and I could see all of them plainly. This is a series I would love to see on the big screen one day! It would be visually breathtaking!
I did feel that the plot of Red Queen was unique, despite some surface similarities with other YA dystopians. I really enjoyed learning about the Reds and the Silvers and the differences between the two. I also really loved finding out about all the different abilities within the Silver world and how each of them worked. My only complaint is that I wish the history of how the Reds and Silvers diverged (since that seems to be what they were hinting at) was better explained instead of just focusing on their current differences. I definitely look forward to learning more about their history in future books. I also can't wait to see what happens with the politics between the different players, which is not something I usually say.
One thing I did NOT see coming in Red Queen was the twist! I actually had no idea that there was even a twist in this book at all. I have avoided reviews as much as I could and apparently did a great job of it. I was left with my jaw hanging open and immediately had to message a friend to freak out about it with her. Well done, Miss Aveyard. Well done.
Red Queen is a book that is intricate and well done, something I was not really expecting based on the claims that it was ripping off so many other stories. While there were a couple slow parts, the pacing overall was good enough to keep me engaged and I actually ended up buying a hard copy so I could finish it faster! For those of you who are still on the fence about this one, I definitely recommend that you finally pick it up! I don't think you'll be disappointed.