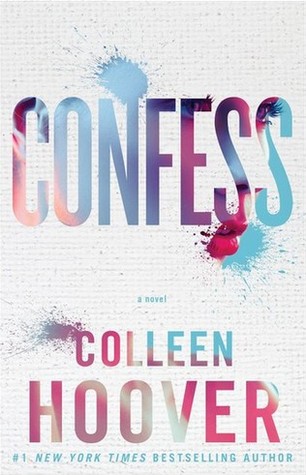 Title: Confess
Author: Colleen Hoover
Publication Date: March 10, 2015
Publisher: Atria Books
Pages: 306
Add to Goodreads
Auburn Reed has her entire life mapped out. Her goals are in sight and there's no room for mistakes. But when she walks into a Dallas art studio in search of a job, she doesn't expect to find a deep attraction to the enigmatic artist who works there, Owen Gentry.

For once, Auburn takes a risk and puts her heart in control, only to discover Owen is keeping major secrets from coming out. The magnitude of his past threatens to destroy everything important to Auburn, and the only way to get her life back on track is to cut Owen out of it.

The last thing Owen wants is to lose Auburn, but he can't seem to convince her that truth is sometimes as subjective as art. All he would have to do to save their relationship is confess. But in this case, the confession could be much more destructive than the actual sin…
Confess is my second Colleen Hoover attempt and probably my last. After quite the fantasy binge, I decided to read something a little more contemporary. Since I'm not a fan of YA contemporary, I went with a NA read. Considering Confess won a Goodreads award last year, I thought maybe it would be the book to win me over. Nope.
Confess is a story of secrets. It's the story of Auburn and Owen and the secrets and romance between them. To be completely honest, the first 30 or so percent of this book had me smiling non-stop. Then it didn't anymore because then the drama was out of control and that makes me really sad.
**From here on out there are going to be some spoilers, so read further at your own risk.**
Auburn, from the beginning of this book, seems like a pretty likable protagonist. The backstory was cute. I enjoyed getting to know her. I liked following her around Dallas and through her first meeting with Owen (except for this one really dumb comment she made about how she was a whore for letting him inside her apartment to use her bathroom). But then the truth came out.
Now, I want to preface this by telling you I have absolutely no issues with teen moms, single moms, moms in general, etc. However, if I'm going to be reading a book about a single/former-teen mom attempting to get custody of her son, THAT is something I'd like to know from the get go, because that is not the kind of book I usually (ever) read. So strike one: the cute, light NA read I was expecting is now primarily about custody battles.
Which brings me to the romance in general. Oh, did I say romance? I meant insta-love. Complete, 100% insta-love. The characters even mention how they've only seen each other for two days and they're both completely obsessed over each other and having affairs and making life decisions and being generally completely INSANE for people who have known each other for five minutes.
But really, there was just So.Much.Drama. Cancer, teen pregnancy, psycho uncles-who-want-to-be-daddies, near-rape, custody battles, drug-addictions-that-aren't-really-drug-addictions, POS fathers, drunk drivers, blackmail. It's just out of control. If I wanted this kind of drama... Never mind, I wouldn't.
I wanted to like Confess so much! I had heard such great things and the art was so pretty and... it was just a huge let down. I really feel like if this story had left out about half the drama and, honestly, the whole custody thing, it could have been a lot better. Maybe I'm just going to the wrong author for good NA reads though. This has been my second two star Colleen Hoover book and I don't think I'll be giving her third try.