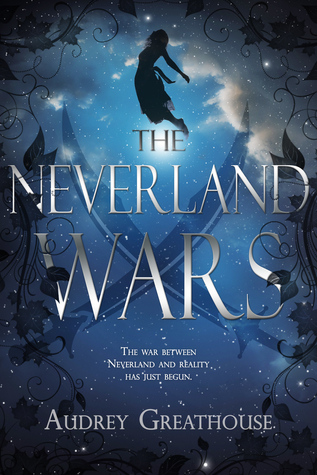 Title: The Neverland Wars
Author: Audrey Greathouse
Publication Date: May 9, 2016
Publisher: Clean Teen Publishing
Pages: 302
Add to Goodreads
//I received this book from the author in exchange for an honest review//
Magic can do a lot—give you flight, show you mermaids, help you taste the stars, and… solve the budget crisis? That's what the grown-ups will do with it if they ever make it to Neverland to steal its magic and bring their children home.

However, Gwen doesn't know this. She's just a sixteen-year-old girl with a place on the debate team and a powerful crush on Jay, the soon-to-be homecoming king. She doesn't know her little sister could actually run away with Peter Pan, or that she might have to chase after her to bring her home safe. Gwen will find out though—and when she does, she'll discover she's in the middle of a looming war between Neverland and reality.

She'll be out of place as a teenager in Neverland, but she won't be the only one. Peter Pan's constant treks back to the mainland have slowly aged him into adolescence as well. Soon, Gwen will have to decide whether she's going to join impish, playful Peter in his fight for eternal youth… or if she's going to scramble back to reality in time for the homecoming dance.
You may already know, if you've read a few of my reviews, that I tend to adore retellings. Two of my favorite stories to see retold are
Beauty and the Beast
and
Peter Pan
. I feel like it's really hard to go wrong with either of these, so when I saw The Neverland Wars, I immediately added it to my TBR. How could I say no when I was presented with the opportunity to review an advance copy?
The Neverland Wars is a totally unique take on the Peter Pan story. The book has a modern day setting, but in this universe magic is real - and the adults know it. This comes as quite a shock to Gwen, who is honestly just concerned about getting to go to homecoming. Her sister disappears and it seems that everyone but her knows exactly what has happened. When she gets the chance to go after her sister, and just happens to get a fast pass to Neverland with Pan himself in the process, she takes it... to save her sister (or at least that's how she justifies it). Gwen learns that there's a war between Neverland and the Adults and she doesn't know which side she belongs on.
I really enjoyed Gwen as a character for the most part. Some retellings that I've read have struggled to convince me that the story is actually about Wendy (Gwen, in this case) growing up. This one made that point very clear from the beginning and I felt like I could easily sympathize with her unease over whether to remain a child or become like the adults surrounding her. I really liked going along with Gwen on her journey through Neverland and what was essentially finding herself.
Peter was also a character I generally enjoyed, although not quite as much as I would have liked. Some Peter Pan stories make it obvious whether Peter is a villain or a hero, but I felt like this one left it a little more ambiguous, which I liked. That's about where my feelings about him end, though. I do wish I had been able to get to know him a bit better, but honestly the omniscient narration made it a little difficult to really connect with any one character fully.
Audrey Greathouse's Neverland was definitely unique. There are classic Pan elements throughout the world building, of course, but there are little changes here and there to show that this is not exactly the same as the Neverland you've grown up with. For example, the second star to the right bit? Not quite. And there aren't any pirates in this Neverland, which was quite disappointing to me as a huge fan of Captain Hook. The mermaids were also quite a bit different. Some of these elements were really interesting, while some were a bit confusing and sometimes a little unnecessary.
What I really enjoyed, though, was the writing style! It felt incredibly whimsical and definitely like it would fit into a classic fairytale - Peter Pan, for instance. Still, good characters, whimsical writing, and unique setting couldn't completely save this from the rather odd storyline of the war itself. I never quite understood why there would need to be a war over magic, or why it was in limited supply, and perhaps a bit more background could have made it seem more plausible.
Overall The Neverland Wars was just an okay read for me. I feel like this story had a lot of potential but ultimately was not fleshed out enough to make it a great retelling. I'm sure it doesn't help that there have been so many Pan retellings released in the last couple years so this one had a lot to live up to. I would still recommend this to Peter Pan lovers because it definitely will transport you to Neverland for a few hundred pages!