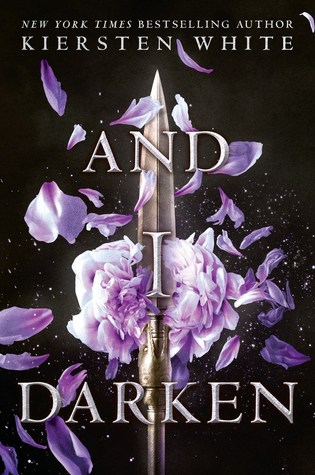 Title: And I Darken (The Conquerors Saga #1)
Author: Kiersten White
Publication Date: June 27, 2016
Publisher: Delacorte Press
Pages: 496
Add to Goodreads
Review for book 2
//This book was provided by Netgalley in exchange for an honest review//
NO ONE EXPECTS A PRINCESS TO BE BRUTAL.

And Lada Dragwlya likes it that way. Ever since she and her gentle younger brother, Radu, were wrenched from their homeland of Wallachia and abandoned by their father to be raised in the Ottoman courts, Lada has known that being ruthless is the key to survival. She and Radu are doomed to act as pawns in a vicious game, an unseen sword hovering over their every move. For the lineage that makes them special also makes them targets.

Lada despises the Ottomans and bides her time, planning her vengeance for the day when she can return to Wallachia and claim her birthright. Radu longs only for a place where he feels safe. And when they meet Mehmed, the defiant and lonely son of the sultan, who's expected to rule a nation, Radu feels that he's made a true friend—and Lada wonders if she's finally found someone worthy of her passion.

But Mehmed is heir to the very empire that Lada has sworn to fight against—and that Radu now considers home. Together, Lada, Radu, and Mehmed form a toxic triangle that strains the bonds of love and loyalty to the breaking point.
And I Darken is a book I had seen around a few times, but didn't know too much about. Then I saw it on Netgalley, read the first few lines, and was immediately sold. I don't know anything about Vlad the Impaler, other than what I saw on Dracula Untold, so I was pretty excited to get into the meat of this story about Lada, the brutal princess.
When I first started this book, I wasn't exactly sure what to think. I immediately loved the way it was written. Somehow it was able to pull me in immediately, despite the fact that it began with Lada being born. Slowly, the plot meanders through Lada's childhood. We see her a bit as a baby, then a young child, and then a preteen. Finally, she turns 13 and this is where we spend the first couple hundred pages of the book. I'll be honest in saying I had started to get a little frustrated with reading about child Lada. I wanted it to hurry up and get to her older teenage years so we could see her get her vengeance. After it all, though, I really do believe that every single page of backstory was necessary because it showed how Lada and her brother came to be the people they were.
And I Darken really is a book all about its characters more so than some others. (I don't even know if that makes sense, but it does in my head, so...) Sure, a lot of books have great characters! But where some of my other favorite books leave me thinking about the story long after it ends, all I can think about after finishing this is the characters. And not just Lada, but all of them! I don't know if I've ever read a book that focused so heavily on multiple characters.
I loved Lada, despite her pretty unlikable attitude, and I also loved Radu! Lada was unapologetically badass. There were moments where I thought she might do what so many other young adult heroines have done and change herself for her man, but I'm happy to report that Lada stays brutal from page one until the very last chapter. I also loved that she was
not
a special snowflake! Lada wasn't gorgeous (or even pretty), or a genius, and she didn't have any magical powers. She was just a normal girl with a lot of determination. Radu was my other (obvious) favorite, although he starts out as kind of an annoying, whiney kid. Seeing him come into his own was immensely satisfying. I cannot say I loved Mehmed, but I did appreciate that I was able to understand his motivations as he carried out his duties as a sultan. Most of all, I loved watching the relationships between all three of these characters evolve.
The story, like the main character, is brutal at times. I suppose it kind of has to be when you're looking at book based on Vlad the Impaler and I really loved the way it all came together. I will admit that the story went to places I did not anticipate, but I ended up really enjoying it! There were slow bits, of course. I mean, almost the first half of the book is about the characters as children. But there was a lot of action even in the childhood years.
The setting was also fantastic! This is one of the first books I've read with this setting and I loved learning a bit about the Ottoman empire. Kiersten White did a fantastic job of painting her setting and it made me feel like I could truly envision each new location she took me to. I also appreciated the look into Islam from both Lada's (who hated it) and Radu's (who found peace in the religion) points of view.
If I had one complaint about And I Darken it would have been how long it took to get to Lada and Radu as actual young adults. That being said, I ended up enjoying the length of time I had to get to know them, so it really isn't a complain after all. I loved this book so much! When it was over, I was honestly kind of devastated, especially realizing I'd have to wait a year for the next one. I highly recommend this book if you're looking for some YA fantasy or historical fiction that's just a little bit more ruthless than others!