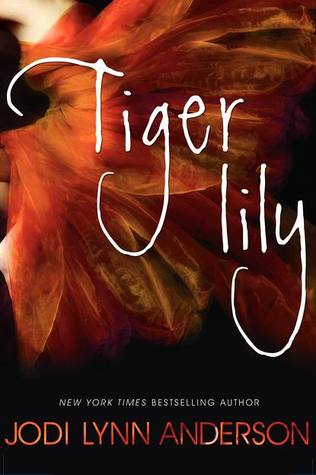 Title: Tiger Lily
Author: Jodi Lynn Anderson
Narrator: Cassandra Morris
Publication Date: July 3, 2012
Publisher: HarperCollins Children's Books
Add to Goodreads
Before Peter Pan belonged to Wendy, he belonged to the girl with the crow feather in her hair...

Fifteen-year-old Tiger Lily doesn't believe in love stories or happy endings. Then she meets the alluring teenage Peter Pan in the forbidden woods of Neverland and immediately falls under his spell.

Peter is unlike anyone she's ever known. Impetuous and brave, he both scares and enthralls her. As the leader of the Lost Boys, the most fearsome of Neverland's inhabitants, Peter is an unthinkable match for Tiger Lily. Soon, she is risking everything—her family, her future—to be with him. When she is faced with marriage to a terrible man in her own tribe, she must choose between the life she's always known and running away to an uncertain future with Peter.

With enemies threatening to tear them apart, the lovers seem doomed. But it's the arrival of Wendy Darling, an English girl who's everything Tiger Lily is not, that leads Tiger Lily to discover that the most dangerous enemies can live inside even the most loyal and loving heart.

From the New York Times bestselling author of Peaches comes a magical and bewitching story of the romance between a fearless heroine and the boy who wouldn't grow up.
Peter Pan retellings are one of my absolute FAVORITE things to read, although I have a preference for Captain Hook, if I'm being honest. I've had Tiger Lily on my TBR shelf for over a year now, but was afraid to pick it up after loving Never Never so much! I didn't think anything could ever live up to it. My other hesitation was that this book was an actual Pan retelling, romance and all. I was hesitant, but when I got the chance to listen to the audiobook, I snagged it in hopes it would be incredible!
Tiger Lily is a unique retelling in that it is actually told from Tinker Bell's point of view, which I hadn't realized going in. I'll admit that her voice initially turned me off from the audio until I realized it was actually the fairy who was speaking and then I decided to give her the benefit of the doubt. I really enjoyed that, while this was the story of Tiger Lily and Peter Pan, it was also Tinker Bell's story. I always like to see how each author will handle this feisty little fairy and Jodi Lynn Anderson did not let me down! Tink was hilarious and surprisingly easy to sympathize with for someone who is well-known for her tantrums. Of course, the other characters were equally well done.
As a child, I wasn't sure how to feel about Tiger Lily's character. In every Pan movie ever made, Tiger Lily is a very minor role and doesn't usually even speak. The author here had a lot of room to create a fantastic main character and I really feel that she did. Tiger Lily was a strong female protagonist who found herself in a difficult situation between her tribe and Peter, but managed to find herself in the midst of it. I loved that she stayed true to herself while also branching out from the closed off mindset of the tribe she was a member of. Her relationship with Peter was sometimes adorable and sometimes heartbreaking and almost always perfect.
The story of Peter Pan has been retold in so many ways that sometimes retellings are, well, boring and predictable. This book manages to incorporate new aspects of Neverland with the old lore that we all know and love. There is an interesting blend of the real world with Neverland that is just a little bit different than what has been seen before. I enjoyed learning the ins and outs of Tiger Lily's people and as a whole and individually. The secondary characters in the tribe and their personal stories were all nearly as interesting as the main plot.
Something I found surprising was that, while Neverland did maintain some of its magic in the form of mermaids, fairies, and near-immortal people, it also seemed much more rooted in the real world than a lot of other Pan retellings I've come across. While I did appreciate Jodi Lynn Anderson's take on Neverland, I did find myself missing some of the more fantastical aspects that I'm used to at times. A Peter Pan that doesn't fly is just... sad. I did still really enjoy exploring the world though.
The end of Tiger Lily was the kind of ending that I can get behind. Although it was (really) sad, I also thought it was realistic within the story I was reading. My only really complaint is that, while I enjoyed the characters and thought they were really well done, I sometimes found myself feeling a little detached because of the way the story was told. I still thought they were great, but I did miss the first person POV I've become so used to.
Overall, I thought Tiger Lily was a wonderfully unique take on the Peter Pan story! I did have minor issues with it, but really enjoyed almost everything about it. At the moment I would rate it my second favorite, after Never Never. If you're a fan of Pan, this is definitely one you should make time for!