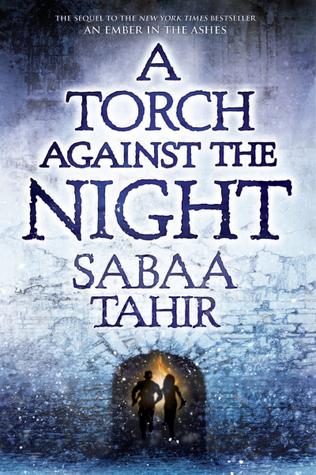 Title: A Torch Against the Night (An Ember in the Ashes #2)
Author: Sabaa Tahir
Publication Date: August 30, 2016
Publisher: Razorbill
Pages: 464
Add to Goodreads
Reviews for book 1 and book 3
A Torch Against the Night takes readers into the heart of the Empire as Laia and Elias fight their way north to liberate Laia's brother from the horrors of Kauf Prison. Hunted by Empire soldiers, manipulated by the Commandant, and haunted by their pasts, Laia and Elias must outfox their enemies and confront the treacherousness of their own hearts.

In the city of Serra, Helene Aquilla finds herself bound to the will of the Empire's twisted new leader, Marcus. When her loyalty is questioned, Helene finds herself taking on a mission to prove herself—a mission that might destroy her, instead.
An Ember in the Ashes was one of my top five reads of 2015 and, if you read it, you know that I was basically dying to get A Torch Against the Night for the last year! I got the opportunity to read an advanced copy and snatched it up in a hurry, fully expecting to be totally blown away by this second installment.
A Torch Against the Night picks up right where Ember left off, with Laia and Elias on the run from the Empire and on a mission to save Laia's brother. Helene receives a prominent position next to Marcus and must decide whether her loyalty is to the Empire or to Elias, who has essentially left her for Laia. These three characters are the focus of the story with alternating points of view between them. I've seen people talk about how different the characters were in this book, but I can't say I really saw that. Laia is forced to become more of a badass out of necessity and Elias has to change his approaches for his own reasons as well, but I felt these were realistic changes based on circumstances. At the end of it all, I still absolutely adore Elias!
I also really enjoyed reading chapters from Helene's perspective, although I did roll my eyes at first. I didn't love her in book one, but after Torch, she is one of my new favorite characters! Her struggle was real and I felt so much sympathy for her as she tried to decide which side she was on. I can't wait to see where her story goes!
The villain(s) in A Torch Against the Night are, frankly, terrifying! And yes, there are several of them, although they all seem to be working together. Of course, the Commandant and Marcus are the two most obvious baddies in this story and I won't ruin the rest for you. These two are peas in a pod and are both unsettlingly despicable. There is literally nothing they won't do for power over the Empire and beyond and I love it because I never felt that the characters were quite safe enough for me to relax.
Then there was the romance... In An Ember in the Ashes, there was a hint of a love triangle with Keenan, but it seemed to be squashed by the end. If you want to keep believing that, skip this book! Because Keenan is back and so is the triangle. Honestly, this is one of the things I was most confused about with A Torch Against the Night. It seemed pretty straightforward at the end of Ember! I love angst as much as the next person, but the whole tortured affair between Laia and Elias had me wanting to bang my head into a wall and then when Keenan showed up, I wanted to throw myself through the window. But I trudged on. And yes, it was worth it, but I'm still bitter about the romance.
The story, while action packed, was slow for me at times. It took me much longer to read this book than I thought it would. The beginning was exciting and so was the ending, but a lot of the middle was traveling and talking and I'll admit I was bored. There were a lot of new developments in Torch and it actually went off in a much different direction than I'd anticipated! Although I wasn't expecting it, I really ended up loving where it went! There were a couple big twists that I really didn't see coming, which is one of my favorite things in fiction! I love being taken totally by surprise and Sabaa Tahir totally shocked me on more than one occasion!
The world of A Torch Against the Night was even more impressive than that of Ember! I loved learning more about the tribes and getting to spend a decent amount of time with them. Although this book was A LOT of traveling across different terrains, the upside was reading the amazing descriptions and feeling like I was there. One forest in particular was just amazing and I'm anticipating reading a lot more about it book three! And of course there was Kauf Prison itself. As terrifying as it was, it was fascinating.
A Torch Against the Night was easily one of my most anticipated reads of 2016 and I was so glad I got to read it early! I did enjoy it a lot, but I have to say this was not as perfect for me as An Ember in the Ashes. There was a lot of lag in the middle and I didn't love the love triangle, but it was still a solid second book! (I enjoyed it enough that my copy is still on pre-order.) The ending was incredible and, of course, here I am waiting for another year to find out where the story goes. If you loved An Ember in the Ashes, chances are you'll really like this one too!