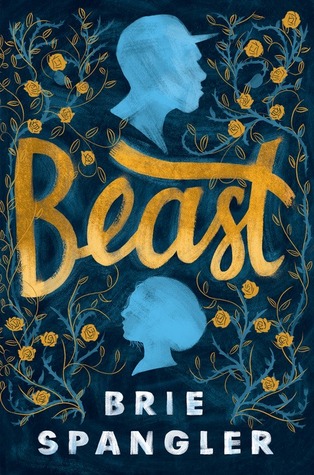 Title: Beast
Author: Brie Spangler
Publication Date: October 11, 2016
Publisher: Knopf Books for Young Readers
Pages: 336
Add to Goodreads
//I received this book at ALA in exchange for an honest review//
A witty, wise, and heart-wrenching novel that will appeal to fans of Rainbow Rowell and David Levithan.

Tall, meaty, muscle-bound, and hairier than most throw rugs, Dylan doesn't look like your average fifteen-year-old, so, naturally, high school has not been kind to him. To make matters worse, on the day his school bans hats (his preferred camouflage), Dylan goes up on his roof only to fall and wake up in the hospital with a broken leg—and a mandate to attend group therapy for self-harmers.

Dylan vows to say nothing and zones out at therapy—until he meets Jamie. She's funny, smart, and so stunning, even his womanizing best friend, JP, would be jealous. She's also the first person to ever call Dylan out on his self-pitying and superficiality. As Jamie's humanity and wisdom begin to rub off on Dylan, they become more than just friends. But there is something Dylan doesn't know about Jamie, something she shared with the group the day he wasn't listening. Something that shouldn't change a thing. She is who she's always been—an amazing photographer and devoted friend, who also happens to be transgender. But will Dylan see it that way?
Beast is one of those books that I knew I had to have as soon as I saw it! The cover is gorgeous and, well, it's a Beauty and the Beast retelling (sort of)! In case you're new to my reviews, I am obsessed with retellings. Even though I'm not a usual reader of contemporary fiction, this combined with a trans main character made this one a must-read for me!
Dylan is the protagonist of this story and he has some problems. For reasons unknown he is huge and won't stop growing. He's also plagued with way too much hair and it's everywhere, hence why he's called Beast by the kids at school. One day Dylan goes onto the roof and falls off, breaking his leg and landing him in group therapy where he meets Jamie. Dylan was a difficult character to like at times. His decision making was not always sound and he was sometimes an asshole to everyone around him. Somehow I think I actually liked him more because of it, though. It's nice to see a character evolve.
Jamie was a fantastic character! She is unlike any girl Dylan has ever met and he quickly falls head over heels. Although I clearly have no idea what it would be like to be transgender, I felt it easy to sympathize with her throughout the book. I also loved how fearless and unapologetically herself she was. She took no crap from anyone and didn't let the haters bring her down for long, and her reactions always felt sincere.
The story in Beast, while adorable, wasn't really Beauty and the Beast to me. Other than the fact that one character was literally called "Beast" and the other was really pretty, I couldn't see much of a connection. Still, the story was amazing, and this is coming from someone who doesn't usually care for contemporary fiction. I loved the evolution of the relationship between Dylan and Jamie. Watching it was kind of like a train wreck at times, but I loved it so much! I laughed, I cried (okay, not really)!
Brie Spangler did a wonderful job of creating a world and characters who were incredibly strong, yet imperfect enough to be sympathetic. She handled the multiple issues presented in Beast, including death and substance abuse, in such an amazing way. Although this book is totally adorable and a really fun read, the messages Beast drives home are also important and I think (and hope) they'll make an impact with YA readers.
Beast was a really great read that I can't recommend enough! I loved almost every second of it and was actually sad when the story ended. I'm really excited to see what Brie Spangler writes next - she has been added to my auto buy list! If you're a fan of contemporary fiction or are looking to diversify your bookshelf, this one is definitely for you!