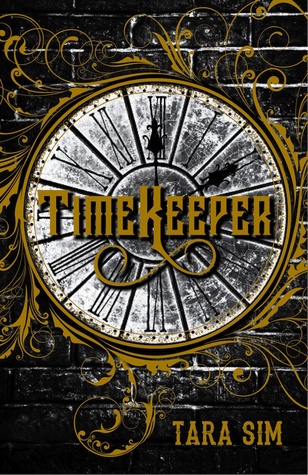 Title: Timekeeper (Timekeeper #1)
Author: Tara Sim
Publication Date: November 8, 2016
Publisher: Sky Pony Press
Pages: 368
Add to Goodreads
//I received this book from Netgalley in exchange for an honest review//
Two o'clock was missing.

In an alternate Victorian world controlled by clock towers, a damaged clock can fracture time—and a destroyed one can stop it completely.

It's a truth that seventeen-year-old clock mechanic Danny Hart knows all too well; his father has been trapped in a Stopped town east of London for three years. Though Danny is a prodigy who can repair not only clockwork, but the very fabric of time, his fixation with staging a rescue is quickly becoming a concern to his superiors.

And so they assign him to Enfield, a town where the tower seems to be forever plagued with problems. Danny's new apprentice both annoys and intrigues him, and though the boy is eager to work, he maintains a secretive distance. Danny soon discovers why: he is the tower's clock spirit, a mythical being that oversees Enfield's time. Though the boys are drawn together by their loneliness, Danny knows falling in love with a clock spirit is forbidden, and means risking everything he's fought to achieve.

But when a series of bombings at nearby towers threaten to Stop more cities, Danny must race to prevent Enfield from becoming the next target or he'll not only lose his father, but the boy he loves, forever.
Timekeeper is a book that I have heard a LOT of blogger friends talking about. Over the summer I finally read the blurb and then I realized what all the fuss was about. There aren't many good LGBT fantasies out there and this one sounded really intriguing! Alternative histories? Clocks with hours gone missing? Clock spirits? Steampunk is not a genre that I have a lot of experience with, so when I saw Timekeeper I knew I wanted to read it, but wasn't quite sure what exactly I was getting myself into.
This book's protagonist is Danny, a young clock mechanic whose father is trapped in a Stopped town and who just wants him back. In fact, his entire life's work as a clock mechanic has been working towards getting on the crew of builders who will attempt to re-start the town, something that has never been tried before. Instead he is assigned to a clock that seems to be in constant disrepair and it's here that Danny meets Colton, the spirit of Enfield's clock.
I loved these two characters so, so much! I'll admit I was a little skeptical of how Tara Sim could make a relationship between a human and a spirit work, but she did a fantastic job pulling it off! I feel like Colton in this situation could have easily come off as too naive or helpless, but instead he was adorable and certainly able to hold his own. Although Danny had his problems, I ended up loving him as well. His problems were easy to sympathize with, even if they weren't always easy to understand. I also really enjoyed Danny's relationship with his his best friend Cassie and thought she was a fantastic secondary character! I can't wait to see what role she plays in future books.
While the characters are fantastic, the world building is where Timekeeper really shines. Like I said, I'm not incredibly familiar with steampunk alternate universes, but I really felt like I could see this one! The clocks and their mythology could have been really confusing and hard to imagine, but it's all so intricate that it seems almost like some forgotten piece of our own world mythology.
This book has a little bit of everything - fantasy, romance, mystery, it's all here. There were times when I had no idea what was going on and I was surprised by more than one twist! This book had me on the edge of my seat! My one complaint is that the writing seemed a little bit too simplistic. I loved the whimsical nature the story had at times, but it is almost written as if it is aimed at a younger audience. As a result it seemed too cute, losing some of the urgency that I think was intended. This didn't necessarily take much away from my reading experience, but it's something to keep in mind.
Timekeeper is an incredibly unique book in a sea of high fantasy, dystopia, and retellings (not that I have a problem with any of those, of course). The world building and characters were amazingly well done and the story kept me guessing until the very end! It wasn't a perfect book, but it was a really great read that I'd definitely recommend for fans of alternate history and fantasy. I cannot wait to get my hands on book two!