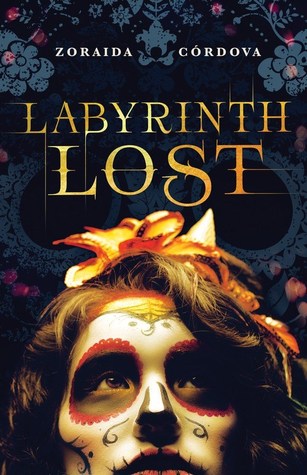 Title: Labyrinth Lost (Brooklyn Brujas #1)
Author: Zoraida Córdova
Publication Date: September 6, 2016
Publisher: Sourcebooks Fire
Pages: 336
Add to Goodreads
Nothing says Happy Birthday like summoning the spirits of your dead relatives.

I fall to my knees. Shattered glass, melted candles and the outline of scorched feathers are all that surround me. Every single person who was in my house – my entire family — is gone.

Alex is a bruja, the most powerful witch in a generation…and she hates magic. At her Deathday celebration, Alex performs a spell to rid herself of her power. But it backfires. Her whole family vanishes into thin air, leaving her alone with Nova, a brujo boy she can't trust. A boy whose intentions are as dark as the strange markings on his skin.

The only way to get her family back is to travel with Nova to Los Lagos, a land in-between, as dark as Limbo and as strange as Wonderland…

Beautiful Creatures meets Daughter of Smoke and Bone with an infusion of Latin American tradition in this highly original fantasy adventure.
Alex is a bruja, and a very powerful one at that. The only problem is that she doesn't want anything to do with magic. She doesn't want to accept her fate as an encantrix, and is dreading her Deathday celebration, where she will celebrate and embrace her power with her family. Alex tries to perform a complex spell to rid herself of her magic, but it backfires horribly, sending her entire family to the mythical land of Los Lagos. Now Alex must put her trust in a mysterious boy named Nova, who claims that he can help her navigate through Los Lagos and save her family.
I was so excited to read
Labyrinth Lost
. The world of Los Lagos sounded so interesting and I couldn't wait to go on an adventure with Alex and Nova. Unfortunately, though, it took me a really long time to get into this book. It took me over a month to finish it because it wasn't holding my attention. I did eventually get invested in the story, but it took much longer than I would have liked. Once I passed the halfway point, I finished it pretty quickly. But it took me about half of the book until I cared about the characters or was interested in their troubles.
Ultimately, I think a large part of why I became more interested in
Labyrinth Lost
was the world. I didn't care as much about the characters when they were in our world. The story seemed to drag and not much was really going on. Alex was constantly complaining about not wanting her powers, and nothing was really happening. I honestly didn't feel very connected to the characters at all. Then, when we got to see Los Lagos, everything changed.
Los Lagos is like nothing I have ever read before. I really love the religion and world that Zoraida Cordova created. It was so unique and I was so enthralled by the intricacies of it. You could almost feel how passionate she was about this world she created as you were reading it. For me, there was such a difference in the parts of the book that took place in the real world and those that took place in Los Lagos.
I did end up enjoying
Labyrinth Lost
, but it didn't blow me away. There were definite aspects of the book that I really loved, and others that didn't really do much for me. I did predict some of the plot twists that occurred towards the end of the book, so the plot didn't really blow me away. But, there was still something magical and wonderful about this book. Even though it took me a while to become committed to it, I ended up enjoying the ride.
I am definitely interested to see where this series will go. It is supposedly composed of companion novels with stories revolving around Alex's sisters. I have no idea where the story will go or what it will be like to have that change in point of view. After the way
Labyrinth Lost
ended, I really can't guess where the next two companion novel will take us. I guess I will have to wait until next year to find out.