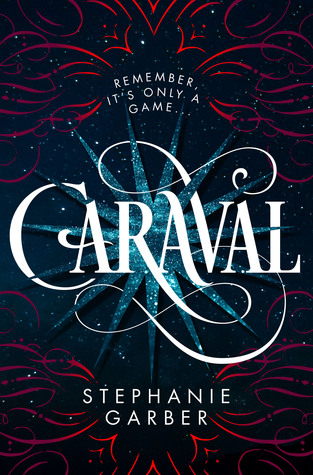 Title: Caraval (Caraval #1)
Author: Stephanie Garber
Publication Date: January 31, 2017
Publisher: Flatiron Books
Pages: 416
Add to Goodreads
Review for book 2
Before you enter the world of Caraval, you must remember that it's all a game . . .

Scarlett has never left the tiny island where she and her beloved sister, Tella, live with their ruthless father. Now Scarlett's father has arranged a marriage for her, and Scarlett thinks her dreams of seeing Caraval, the legendary, once-a-year performance where the audience participates in the show, are over.

Then, Scarlett's long-dreamt of invitation to Caraval finally arrives. So, Tella enlists a mysterious sailor's help to whisk Scarlett away to this year's show. But as soon as the trio arrives, Tella is kidnapped by Caraval's mastermind organizer, Legend.

Scarlett has been told that everything that happens during Caraval is only an elaborate performance. But she nonetheless soon becomes enmeshed in a game of love, heartbreak, and magic with her sister, with Legend, and with the other players in the game. And whether Caraval is real or not, she must find Tella before the five nights of the game are over, a dangerous domino effect of consequences is set off, and her sister disappears forever.
There are books that I enjoy, books that I love, and then there are books that are pure magic - books that
feel like
magic. Very few fit into the last category, but Caraval does. I first heard about Caraval at the ALA annual conference in Orlando last summer. Unfortunately, I didn't get to meet Stephanie Garber, but I was lucky enough to get my hands on a copy of her book. Without seeing any of the hype for this book, I dived in and was amazed. Caraval deserves every ounce of hype it has received (and I'll happily add to it)!
Scarlett is the main character of this story, and I loved her. She has wanted to go to Caraval since she was young, but has never had the chance... until now. Scarlett's mission while in Caraval is to find her sister who has been mysteriously kidnapped and not everything is as it seems. In Caraval everything is a game, nothing is real. At least, that's what they tell everyone who who goes inside. As Scarlett discovers, though, it's difficult to remember this when the stakes get high. I found Scarlett to be both strong and intelligent. She wasn't scared to take chances and be brave when she had to in order to save her sister, but she was never reckless (a trait I cannot stand in "strong" MCs).
Of course, Scarlett doesn't enter Caraval on her own! Julian accompanies Scarlett and her sister to the game and throughout the book. He is a wonderful character who I just couldn't get enough of. While I loved Scarlett, I adored Julian! My favorite kind of love interest is the kind that's a little dark, a bit of a scoundrel, and a little mysterious - the kind of guy that you're never
quite
sure about. The relationship between Scarlett and Julian was perfect! It was a bit of a slow burn and I tend to be impatient, but I loved the way things played out between them.
Although this book shines in every aspect, my favorite was most definitely the world of Caraval. I didn't know quite what to expect when I jumped in, but it wasn't this magical world. I knew from the synopsis that Scarlett would be fighting to recover her kidnapped sister, but I didn't expect the darkness in Caraval... and I loved it! Things are never what you'd expect and there are clues at every turn. I didn't have a map in my advance copy, but I still felt like I was able to picture the world in my head. Of course, when I was able to get my hands on the map, it made it even better! I can't wait to get my finished copy and do a re-read with the map within easy reach!
The story itself is mysterious and gripping. I was pulled in very quickly and once Scarlett got to Caraval I knew I was a goner. There is never a dull moment as Scarlett and Julian race to beat the clock and constantly run into new and exciting people and places. There are even super secret, mysterious (dangerous) tunnels! Thankfully, this is going to be a series! But I'm happy to report that there are no cliffhangers here. This roller coaster of a book wraps up nicely enough that you won't want to throw it at any walls, though it may leave you with a serious book hangover.
I loved every single thing about Caraval, in case that wasn't obvious, right down to the gorgeous cover. The characters were fantastic, the world was pure magic, and the story grabbed me from page one. I plan on reading this again as soon as I get my pre-ordered copy and I'm already dying for book two! I definitely recommend picking this one up if you enjoy fantasy.