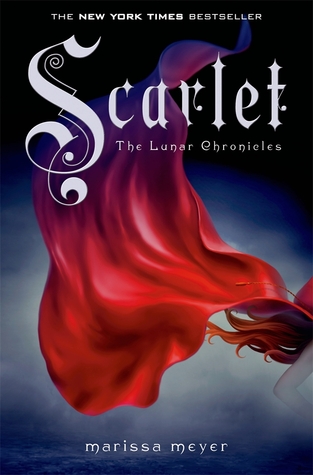 Title: Scarlet (The Lunar Chronicles #2)
Author: Marissa Meyer
Narrator: Rebecca Soler
Publication Date: February 5, 2013
Publisher: Feiwel and Friends
Add to Goodreads
Reviews for book 1, book 3, book 3.5, & book 4
Cinder, the cyborg mechanic, returns in the second thrilling installment of the bestselling Lunar Chronicles. She's trying to break out of prison—even though if she succeeds, she'll be the Commonwealth's most wanted fugitive.

Halfway around the world, Scarlet Benoit's grandmother is missing. When Scarlet encounters Wolf, a street fighter who may have information as to her grandmother's whereabouts, she is loath to trust this stranger, but is inexplicably drawn to him, and he to her. As Scarlet and Wolf unravel one mystery, they encounter another when they meet Cinder. Now, all of them must stay one step ahead of the vicious Lunar Queen Levana, who will do anything for the handsome Prince Kai to become her husband, her king, her prisoner.
My journey with my reread of the Lunar Chronicles continues this week with
Scarlet
. If you read my review of
Cinder
last week, you will know that I really enjoyed the first book, but I was very much looking forward to continuing on with the series and meeting the rest of the wonderful cast of characters that Marissa Meyer has created. I got exactly what I was looking for as I picked up
Scarlet
and I wasn't disappointed.
Scarlet
picks up immediately following the events in
Cinder
. Cinder is on the run from the Eastern Commonwealth and Levana and has enlisted the help of Captain Carswell Thorne (think dysfunctional Han Solo) to help her find more information on the missing Lunar Princess Selene. Meanwhile, we are introduced to a new character, Scarlet, who is trying to find her missing grandmother. When Scarlet meets a mysterious street fighter named Wolf, she realizes she may be tied up in something bigger than she ever could have imagined. Scarlet, Wolf, Cinder, and Thorne eventually cross paths and set the stage for what will happen in
Cress
and the following books.
At the risk of sounding like a broken record, I will say again how much I completely adore the characters in this series. Cinder, Kai, and Iko are still the lovable characters that we met in book one. But the addition of Thorne, Wolf, and Scarlet really brings the series to another level. Scarlet is pretty awesome, but nothing compares to Wolf and Thorne in my book. I completely love those men. I rarely get excited about love interests in books, but the men in the Lunar Chronicles will forever be some of my favorites.
A lot of people say that
Scarlet
is their least favorite of the series, but I love it. I will admit that I think the plot lags in a few places. But overall, I love the way the story continues in this book. We get to learn so much more about the world that Cinder is living in and how the tensions between the Earthens and Lunars developed. My only complaint about the audiobook of
Scarlet
was that sometimes the narrator sounded a little strange. It was like she would sometimes try to give the characters accents, but they weren't very good, and they weren't always there. It threw me off a bit while listening, but it wasn't enough to deter me from finishing the audiobook.