Today I am excited to share an incredible giveaway for a #StrangetheDreamer prize pack thanks to @theNovl! This book has been on my radar since I first saw the gorgeous cover (and the author, honestly) and has been at the top of my must reads list! I've already heard so many amazing things about Strange the Dreamer and a couple of my friends are pretty much obsessed. I'm currently listening to the (magical) audiobook and I'm really hoping it's as incredible as I've heard! Keep scrolling for more info and a chance to win shiny things!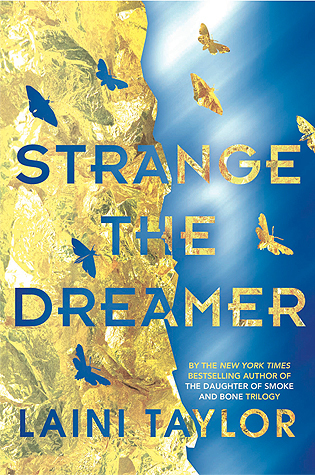 Title: Strange the Dreamer (Strange the Dreamer #1)
Author: Laini Taylor
Publication Date: March 28, 2017
Publisher: Little, Brown Books for Young Readers
Pages: 533
Add to Goodreads
The dream chooses the dreamer, not the other way around—and Lazlo Strange, war orphan and junior librarian, has always feared that his dream chose poorly. Since he was five years old he's been obsessed with the mythic lost city of Weep, but it would take someone bolder than he to cross half the world in search of it. Then a stunning opportunity presents itself, in the person of a hero called the Godslayer and a band of legendary warriors, and he has to seize his chance or lose his dream forever.

What happened in Weep two hundred years ago to cut it off from the rest of the world? What exactly did the Godslayer slay that went by the name of god? And what is the mysterious problem he now seeks help in solving?

The answers await in Weep, but so do more mysteries—including the blue-skinned goddess who appears in Lazlo's dreams. How did he dream her before he knew she existed? And if all the gods are dead, why does she seem so real?

Welcome to Weep.
Laini Taylor is a New York Times bestselling author and a National Book Award finalist. She is the author of the global sensation the Daughter of Smoke & Bone trilogy: Daughter of Smoke & Bone, Days of Blood & Starlight, and Dreams of Gods & Monsters, and the companion e-novella, Night of Cake & Puppets. She is also the author of the Dreamdark books Blackbringer and Silksinger, and the highly acclaimed Lips Touch: Three Times. She lives in Portland, Oregon, with her husband, illustrator Jim Di Bartolo, and their daughter Clementine.
THE GOLDEN TOUCH: Gold rules all in Strange the Dreamer – let the world know your power with this golden prize pack.
One (1) winner receives:
copy of Strange the Dreamer
golden earbuds, eyeshadow, and writing pen set.
Giveaway open to US addresses only.
Prizing and samples provided by Little, Brown & Co.
a Rafflecopter giveaway
Hashtag #StrangetheDreamer