Happy Wednesday, fellow book lovers! This week's "can't wait to read" is: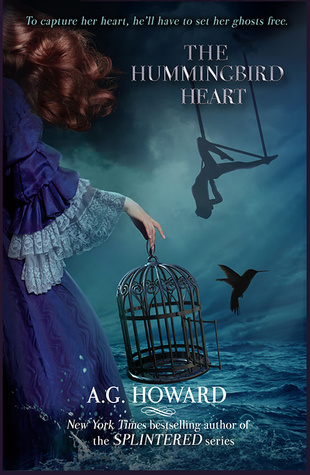 The Hummingbird Heart
by A.G. Howard
Publication Date: August 15, 2017
Set 19 years after The Architect of Song.

Shortly after escaping a circus tragedy, young Italian orphan, Willow Antoniette, seeks refuge at The Manor of Diversions—a holiday resort in England born of a ghost story. For eleven years, she's raised alongside the children of the resort's owners: Julian, his twin brother, Nick, and their younger sister Emilia. Now that Willow is of marriable age, she's determined to escape finishing school along with everyone's efforts to make her a proper lady. The only man she wants to spend her life with is Julian, after all. Yet how can she tell him, when he thinks of her as nothing but a friend?

As a machinist and engineer, Julian Thornton prefers a governable life. He can't allow his ever-deepening attraction for Willow to distract from his amusement park plans to lure a younger, wealthier clientele to their family's resort. In hopes to escape Willow and find investors, Julian sets off on a transatlantic ocean liner headed for the St. Louis World's Fair, unaware Willow has secretly stowed away on the same ship.

A tiny, mute orphan named Newton and a pair of haunted Italian shoes bring Willow and Julian face to face on deck. Forced to work together to solve the mystery of Newton and his vindictive, ghostly companion, Julian and Willow can no longer fight their untapped passions. However, time to admit their true feelings is running out, for the ghost and her murderer have enlisted them as unsuspecting pawns in a karmic game of cat-and-mouse that could cost all of them their lives.
I loved
The Architect of Song
SO MUCH when I read it last year! I'll admit I'm a little hesitant about this 19 years later story, I still very much want to give this one a chance too!
---
Can't-Wait Wednesday is a weekly event hosted at

Wishful Endings

.

This meme is based on Waiting-on Wednesday, which went inactive last year.