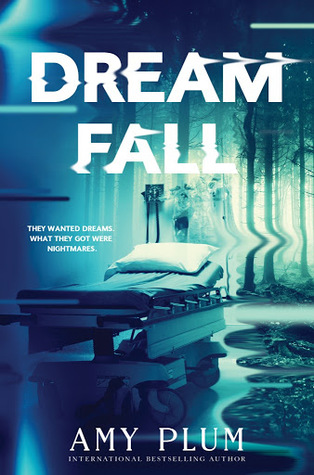 Title: Dreamfall (Dreamfall #1)
Author: Amy Plum
Narrator: Maria Cabezas
Publication Date: May 2, 2017
Publisher: HarperTeen
Add to Goodreads
Cata Cordova suffers from such debilitating insomnia that she agreed to take part in an experimental new procedure. She thought things couldn't get any worse...but she was terribly wrong.

Soon after the experiment begins, there's a malfunction with the lab equipment, and Cata and six other teen patients are plunged into a shared dreamworld with no memory of how they got there. Even worse, they come to the chilling realization that they are trapped in a place where their worst nightmares have come to life. Hunted by creatures from their darkest imaginations and tormented by secrets they'd rather keep buried, Cata and the others will be forced to band together to face their biggest fears. And if they can't find a way to defeat their dreams, they will never wake up.
I have read several books by Amy Plum and I haven't particularly loved any of them. For some reason they just keep pulling me back in! All of the ideas behind Amy Plum's books intrigue me, they just never quite follow through. Still, when I stumbled across Dreamfall recently and saw that it was a fairly short audiobook, I decided to give her one more chance.
Cata suffers from insomnia, as do several other kids she meets throughout this book. Although they've all entered an experimental study to cure them of their sleep issues, they have very different (and interesting) reasons for doing so. Several characters are introduced throughout this book, but none of them are very well developed. In fact, I just finished this a few days ago and I couldn't tell you a single name other than Cata. Obviously, I didn't feel very strongly for any of them - my first issue with Dreamfall.
The experiment begins normally, with all of the patients falling asleep. Slowly, Cata's dreams become stranger and more dangerous, and she finds more and more people there with her. At regular intervals in between nightmares, there is a void where everyone goes to wait, recuperate, and eventually put together what's going on as best they can. Sadly, as best they can didn't really make much sense to me.
One thing Dreamfall did get right is the creepy world of nightmares that the experiment participants have found themselves in. The atmosphere is the right amount of disturbing and surreal, and it painted a clear enough picture in my head that I felt a little uneasy at times. I just wish there were more positive aspects to list!
The concept here is extremely interesting! I loved being immersed in each nightmare and slowly unraveling why the events were happening, even if the explanation never quite worked. I think that Dreamfall could have very easily been a standalone book and that perhaps it would have been better that way. For some reason Amy Plum has decided to drag this out into a series (duology?) and it suffers for it. Forcing multiple books out of this story has created an experience that's too convoluted to make sense or hold my attention.
I wanted to love Dreamfall so much! After the letdown of
After the End
, I'd hoped that this would be the book that made me love Amy Plum like so many other people do! Sadly, I think this will be my last attempt at her books. If you're looking for a book with an interesting premise and a pretty well done world, you may enjoy this! It just wasn't the book for me.