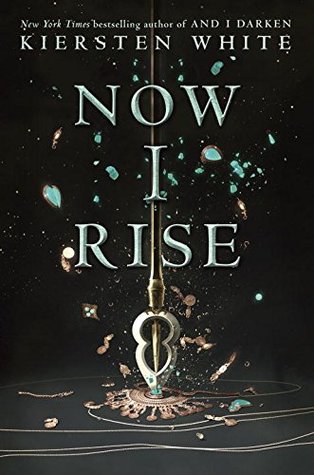 Title: Now I Rise (The Conqueror's Saga #2)
Author: Kiersten White
Publication Date: June 27, 2017
Publisher: Delacorte Press
Pages: 496
Add to Goodreads
Review for book 1
//I received this book from ALA in exchange for an honest review//
Lada Dracul has no allies. No throne. All she has is what she's always had: herself. After failing to secure the Wallachian throne, Lada is out to punish anyone who dares to cross her blood-strewn path. Filled with a white-hot rage, she storms the countryside with her men, accompanied by her childhood friend Bogdan, terrorizing the land. But brute force isn't getting Lada what she wants. And thinking of Mehmed brings little comfort to her thorny heart. There's no time to wonder whether he still thinks about her, even loves her. She left him before he could leave her.

What Lada needs is her younger brother Radu's subtlety and skill. But Mehmed has sent him to Constantinople—and it's no diplomatic mission. Mehmed wants control of the city, and Radu has earned an unwanted place as a double-crossing spy behind enemy lines. Radu longs for his sister's fierce confidence—but for the first time in his life, he rejects her unexpected plea for help. Torn between loyalties to faith, to the Ottomans, and to Mehmed, he knows he owes Lada nothing. If she dies, he could never forgive himself—but if he fails in Constantinople, will Mehmed ever forgive him?

As nations fall around them, the Dracul siblings must decide: what will they sacrifice to fulfill their destinies? Empires will topple, thrones will be won . . . and souls will be lost.
Last year I had the opportunity to review And I Darken early. And I loved it. It became one of my absolute favorite reads of 2016! And then the next year was slow, slow torture as I waited for book two. But then, luckily, I got to read it early as well! In February. And the next year will again be torturous.
Now I Rise picks up very shortly after And I Darken ends, with Lada on the way back to Wallachia, where she intends to claim the throne, wreaking amazing havoc and attempting to pick up allies on the way. Lada was an incredibly strong character who I almost instantly fell in love with in the first book in this series, and I was not disappointed in her here! She makes no apologies on her way to accomplish her goals or for her means to that end. Is she brutal? Absolutely! And I loved every single sentence I read about her story. I loved watching the relationships between Lada and Bogdan, Mehmed, and Hunyadi evolve. Honestly, I could go on and on about my love for Lada, but now I have to rave about another character.
Radu. Oh, Radu's story was every bit as incredible as Lada's! At first, I wasn't too sure about the dual points of view once Lada and Radu went their separate ways, then I found myself completely loving each. My only complaint is that I wish I'd gotten a full book from each of them - a chapter here and there wasn't enough! Radu's story takes an unexpected turn in this book, with him heading to Constantinople on behalf of Mehmed and his ultimate goal of taking the city for his own. New characters and old are present as are new and old romances, all of which were incredible! Radu really came into his own in Now I Rise, accepting himself as he attempted to take control of his circumstances. I have always been able to sympathize with Radu, but this time he broke my heart a time or two.
I've mentioned that there were quite a few secondary characters important to the story, both new and old. My opinion of Mehmed definitely changed a lot during this book, although I was already on the fence with him in And I Darken. He really did keep me on an emotional roller coaster. I ended up feeling a lot of feelings I did not expect for Hunyadi! And Radu's companions in Constantinople... I'd need pages to tell you of my love for them. I have such high hopes for that storyline in the next book!
As you may have gathered, I absolutely adored this story. Each main character went in a totally different direction, but I adored how their stories played out and intertwined. Everything tied back to the first book and nothing was randomly thrown in as filler, which seems to happen in second books. Speaking of, this book never seemed to suffer from second book syndrome. There was strategic planning and awesome battles on both ends and I was always on the edge of my seat. I loved the intricacies of the battle between the Christians and Muslims and am certainly more interested now to learn more about that history. I can definitely see myself reading this series over and over!
This book spanned many vastly different locations, and all of the settings were incredibly well written. Even now I can clearly picture Wallachia, Constantinople, and everything in between. Kiersten White really has a way of writing that makes me feel like I'm actually in the action and can see everything as it happens!
I really cannot say enough good things about Now I Rise! I've already said I wasn't sure I'd love it as much as And I Darken with Radu and Lada on different paths, but it exceeded all of my expectations and left me with a serious book hangover. I am crossing all of my fingers and toes for an ARC of the next book and hoping I survive that long! If you love historical fiction and badass characters, this is definitely a series you don't want to miss!