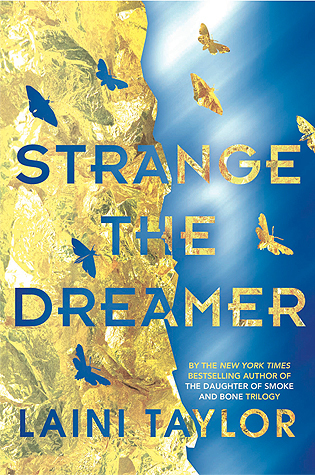 Title: Strange the Dreamer (Strange the Dreamer #1)
Author: Laini Taylor
Publication Date: May 28, 2017
Publisher: Little, Brown Books for Young Readers
Pages: 532
Add to Goodreads
The dream chooses the dreamer, not the other way around—and Lazlo Strange, war orphan and junior librarian, has always feared that his dream chose poorly. Since he was five years old he's been obsessed with the mythic lost city of Weep, but it would take someone bolder than he to cross half the world in search of it. Then a stunning opportunity presents itself, in the person of a hero called the Godslayer and a band of legendary warriors, and he has to seize his chance or lose his dream forever.

What happened in Weep two hundred years ago to cut it off from the rest of the world? What exactly did the Godslayer slay that went by the name of god? And what is the mysterious problem he now seeks help in solving?

The answers await in Weep, but so do more mysteries—including the blue-skinned goddess who appears in Lazlo's dreams. How did he dream her before he knew she existed? And if all the gods are dead, why does she seem so real?

Welcome to Weep.
Lazlo Strange is many things. An orphan. A librarian. An adventurer. A learner. A dreamer. He has lived a quiet life as a librarian, keeping his head down and spending all of his free time learning of the lost city of Weep. Huge mysteries surround Weep, which used to go by a different name, until it was erased from the memories of everyone in the world. Lazlo has an obsessive thirst for knowledge about Weep, earning him the name Strange the Dreamer by those who think his quest is fruitless. On a day that changes his life forever, Lazlo is chosen to go on a journey to Weep, and what he finds is so much bigger than what anyone could have ever imagined.
Oh. My. Goodness. What a book this was. I adore Laini Taylor's writing, so I was pretty sure I would enjoy this book before I even picked it up. But it really surprised me and I already want to read it again and get lost in the story.
Strange the Dreamer
is a fantastic book, but it is a book that might only be enjoyed and appreciated by a small piece of the YA community. Firstly, the language and writing in the book is quite adult, making it a bit off-putting at first if you are expecting to find something more typical of a young adult novel. The writing is absolutely gorgeous, but the pacing is very slow and it takes quite a while (read: almost the entire book) before much action happens. If you manage to tackle that hurdle, you can be rewarded with an amazing reading experience. But
Strange the Dreamer
is not for the faint of heart.
What I love about Laini Taylor's writing is her ability to paint such a vibrant and intricate picture of her characters and her world. I feel like I really grew to know Lazlo and Sarai inside and out. By the end of the book, I knew them well enough to know exactly how they would react to the situations presented to them. I could see the world as they saw it, experience the sights and smells and feelings they discovered in Weep. It felt as though the world was being painted into life right before my eyes.
It took absolutely forever to get to the real action in this book, but once it happened, I was blown away. I didn't mind waiting for the action, because I was enjoying getting lost in the writing, but I can see how it could be frustrating to have to wait so long. I was totally blown away by the big reveal at the end when all the puzzle pieces started coming together. I just wish we had been able to spend a bit more time with the characters at the end because it felt very abrupt. Right when all the excitement came to a head, the book ended and I was left craving book two.
All in all,
Strange the Dreamer
is definitely not for everyone. I can see certain readers finding a lot of things to criticize in this book. But for those that are comfortable dedicating some time to getting lost in the language, you are in for quite an adventure. I adore everything I have read by Laini Taylor and I truly can't wait for the rest of this series.