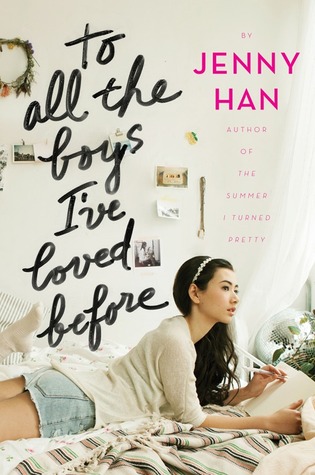 Title: To All the Boys I've Loved Before (To All the Boys I've Loved Before #1)
Author: Jenny Han
Publication Date: April 15, 2014
Publisher: Simon Schuster Books for Young Readers
Pages: 355
Add to Goodreads
What if all the crushes you ever had found out how you felt about them… all at once?

Sixteen-year-old Lara Jean Song keeps her love letters in a hatbox her mother gave her. They aren't love letters that anyone else wrote for her; these are ones she's written. One for every boy she's ever loved—five in all. When she writes, she pours out her heart and soul and says all the things she would never say in real life, because her letters are for her eyes only. Until the day her secret letters are mailed, and suddenly, Lara Jean's love life goes from imaginary to out of control.
Lara Jean has a unique way of getting over the boys that she has loved throughout her life - she writes them a letter to get all her feelings out, then tucks the letters into a hatbox she keeps in her room. Lara Jean's life begins to change when her sister Margot goes off to college, leaving her with the responsibility of taking care of her father and little sister, Kitty. Just as she is trying to deal with these big changes, her letters mysteriously get sent to all the boys she has loved, and she has to deal with the backlash. In an attempt to save face, Lara Jean ends up actually pretending to date one of the boys who received a letter. But everything gets even more complicated when they start developing real feelings for each other - and when Margot's ex-boyfriend expresses his love for Lara Jean as well.
Ok, I am not normally a huge fan of contemporary stories, but I have found a few that I really love.
To All the Boys I've Loved Before
was definitely NOT one of them. I hated just about everything about this book. It was boring and annoying and went absolutely nowhere. I couldn't get through the audiobook fast enough.
My biggest complaint (which seems to be a common one among those who did not like this book) is how absolutely, frustratingly ANNOYING Lara Jean is. Yes, I know, teenagers can be pretty annoying. Some might say that she is just acting her age. But I have never met a junior in high school that is as immature as Lara Jean. She is scandalized by the fact that someone would cheat on a quiz in high school. She never swears and it is a big deal when she says "shit." And GASP! - when someone DARES to take the last piece of pizza without politely asking if she wants it first...well, we never hear the end of it. The worst thing about her annoying character is that she shows absolutely zero growth throughout the book. She doesn't change or mature at all. She is the same obnoxiously annoying person at the end of the book that she was at the start.
There were also a couple parts of this story that just made no sense and were so annoying I wanted to scream. Lara Jean writes letters to the boys she's loved as a way to deal with her feelings. Fine. But WHY WOULD YOU ADDRESS THE ENVELOPES??? That is just so dumb. There is no need for that, and it's just asking for someone to find them and mail them out. Lara Jean is also absolutely terrified of driving. She gets in a car accident the very first time she has to go out and drive on her own. If she has such a horrible fear of driving, why does her father let her drive her little sister around????? That is so unsafe for everyone! I wanted to reach into the book and shake her and her father!
Ultimately,
To All the Boys I've Loved Before
ended up being a waste of my time and a source of aggravation for me. I get annoyed every time I think about Lara Jean. I definitely won't be continuing on with the series, and I have already put my copies of the books in my donate pile because I have no interest in keeping them. Apologies if that sounds harsh, but I don't have room in my life or on my shelves for books that make me angry.