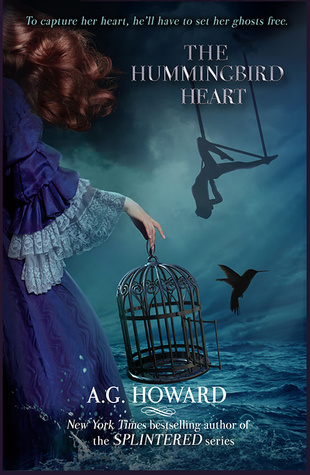 Title: The Hummingbird Heart (Haunted Hearts Legacy #2)
Author: A.G. Howard
Publication Date: August 15, 2017
Publisher: Golden Orb Press
Pages: 339
Add to Goodreads
Reviews for book 1 & book 3
//I received this book from the author in exchange for an honest review//
Set 19 years after The Architect of Song.

Shortly after escaping a circus tragedy, young Italian orphan, Willow Antoniette, seeks refuge at The Manor of Diversions—a holiday resort in England born of a ghost story. For eleven years, she's raised alongside the children of the resort's owners: Julian, his twin brother, Nick, and their younger sister Emilia. Now that Willow is of marriable age, she's determined to escape finishing school along with everyone's efforts to make her a proper lady. The only man she wants to spend her life with is Julian, after all. Yet how can she tell him, when he thinks of her as nothing but a friend?

As a machinist and engineer, Julian Thornton prefers a governable life. He can't allow his ever-deepening attraction for Willow to distract from his amusement park plans to lure a younger, wealthier clientele to their family's resort. In hopes to escape Willow and find investors, Julian sets off on a transatlantic ocean liner headed for the St. Louis World's Fair, unaware Willow has secretly stowed away on the same ship.

A tiny, mute orphan named Newton and a pair of haunted Italian shoes bring Willow and Julian face to face on deck. Forced to work together to solve the mystery of Newton and his vindictive, ghostly companion, Julian and Willow can no longer fight their untapped passions. However, time to admit their true feelings is running out, for the ghost and her murderer have enlisted them as unsuspecting pawns in a karmic game of cat-and-mouse that could cost all of them their lives.
Last year I read The Architect of Song and it turned out to be one of my absolute favorite books of 2016! I was a little unsure how the series could continue with such a huge time jump. (Those kinds of things can be so hit or miss! I'm pleased to announce that everything went better than expected!
The Hummingbird Heart picks up 19 years after the ending of The Architect of Song with Julian, who lives with his family at The Manor of Diversions, and Willow, who has taken refuge there after the death of her parents. Willow has been raised alongside Julian and his siblings and loves them as family, but also feels something stronger for Julian, who is dead set on visiting the World's Fair while she attends finishing school, much to her dismay. Rather than letting Julian take off on an adventure without her, Willow sneaks aboard his ship intending to follow him across the ocean. Of course, it doesn't work out quite as seamlessly as she'd hoped and that is where the excitement begins!
I loved both of these characters so much! Willow is a strong woman with a tragic background and no intention of following social convention. I loved her absolute refusal to do what was expected of her and follow her own path instead. Julian was infuriating at (many) times, but his fierce love and protection of Willow had me falling for him long before the end. Newton was another crucial character in this story who grew on me, although I wasn't sure of his purpose at first. I enjoyed how his story intertwined with that of Willow and Julian's and loved their interactions with him! Julian and Newt together was hilarious more often than not!
The story was totally unexpected and fantastic! I wasn't sure what to expect or how it would tie into The Architect of Song, but I knew that there must be ghosts, and I was not disappointed! The plot was very different from the first book in the series and completely original. I loved how seamlessly everything came together in the end and was definitely surprised! I never saw the twist coming at all!
The Hummingbird Heart is gorgeously written and the atmosphere is perfectly gothic, creepy, and romantic. Although this is certainly not horror, there was a sense of foreboding that overshadowed all of the events that I absolutely adored! I also loved the little nods to Alice in Wonderland throughout the story. (In case you aren't aware, A.G. Howard's first series is an Alice retelling!) I will say that this book was a bit slower to start than The Architect of Song and there were times when it moved at a bit of a slower pace than I might have liked, but it wasn't enough to detract from my overall enjoyment - it just meant that it took slightly longer to reach the end. Now that I think about my long wait for book three, I'm not sure that's a bad thing!
I can't say much more about this book without spoilers, but trust me when I say that it was fantastic! If you are a fan of gothic historical fiction, this book is one you aren't going to want to miss! And while reading book one was definitely helpful to understand some of the background information in this book, I definitely think The Hummingbird Heart can be read as a standalone. I can't wait to get my hands on The Glass Butterfly!