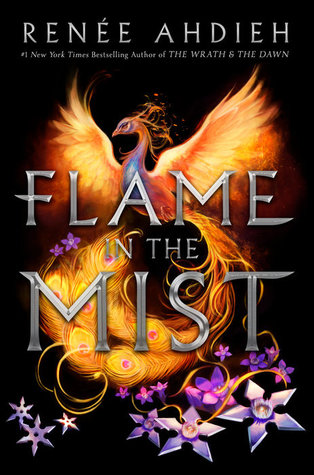 Title: Flame in the Mist
Author: Renee Ahdieh
Publication Date: May 16, 2017
Publisher: G.P. Putnam's Sons Books for Young Readers
Pages: 393
Add to Goodreads
The only daughter of a prominent samurai, Mariko has always known she'd been raised for one purpose and one purpose only: to marry. Never mind her cunning, which rivals that of her twin brother, Kenshin, or her skills as an accomplished alchemist. Since Mariko was not born a boy, her fate was sealed the moment she drew her first breath.

So, at just seventeen years old, Mariko is sent to the imperial palace to meet her betrothed, a man she did not choose, for the very first time. But the journey is cut short when Mariko's convoy is viciously attacked by the Black Clan, a dangerous group of bandits who've been hired to kill Mariko before she reaches the palace.

The lone survivor, Mariko narrowly escapes to the woods, where she plots her revenge. Dressed as a peasant boy, she sets out to infiltrate the Black Clan and hunt down those responsible for the target on her back. Once she's within their ranks, though, Mariko finds for the first time she's appreciated for her intellect and abilities. She even finds herself falling in love—a love that will force her to question everything she's ever known about her family, her purpose, and her deepest desires.
Flame In the Mist immediately caught my attention with its gorgeous cover and promises of a Mulan retelling. I read The Wrath and the Dawn a little over a year ago and really enjoyed it (even though I still haven't read the sequel), so I knew I would have to pick this up when I got the chance! Unfortunately, it didn't end up wowing me like I'd hoped it would.
The story begins with Mariko being shipped off to an arranged marriage with the Emperor's son, a marriage that will help her family. On the way to meet her betrothed, however, her convoy is attacked by the Black Clan and no one but Mariko survives. With revenge in mind, Mariko decides to infiltrate their group, which sounds great, but everything really goes downhill from there. I have several feelings about Flame in the Mist, but I'll start with Mariko.
Over and over, even in the synopsis, the reader is told what a genius Mariko is. Throughout the book she invents things, but we're always told about the inventions and never shown. Mariko has an idea and *poof* a throwing star! Several characters comment on how intelligent and cunning Mariko is, but we never see it and I really wish we had been able to. I didn't dislike Mariko necessarily, I just didn't feel like she was anything special.
Okami is the other main character, the love interest. He was by far my favorite character in this book! In Okami's case we were actually able to see the qualities we're told about. I really enjoyed watching him prove Mariko's assumptions wrong. What I didn't like was how the romance came about. Highlight for romance spoilers:
Throughout the entire book, while Okami believes Mariko to be a boy, there are hints that he might feel something for her, but this is never explored. He is nicer to her, but he never acts on or even acknowledges any potential feelings. Then, suddenly, when he discovers that Mariko is indeed a she (because he accidentally touches her boob while saving her from drowning, by the way), they immediately make out. It's an extremely weird way to handle this romance and I feel like it could have been better if Okami's feelings had been explored even a little while Mariko was still in disguise.
Several secondary characters round out the cast and I really did enjoy most of them! The one I wish had gotten a bit more focus was Mariko's twin. There were a few hints at the relationship between them, but we never got to see any of it.
I thought that (most of) the world building was really well done, at least in my uneducated opinion. Of course, I don't know much about the history of Japan, but I certainly felt like I could picture the forest where the Black Clan hung out. I also really enjoyed the different settings visited, especially the tea house. But there was a major part of the world that was extremely lacking, and that was the magic. What even is it? Random magical things happen and they barely get any acknowledgment. Is magic something that's just accepted in this world? Who has it and who doesn't? Why is absolutely nothing about this magical system brought up in the entire book?
The story was also a bit underwhelming for me. I was expecting a Mulan retelling and this is not that at all. The only similarity between Flame in the Mist and Mulan is that Mariko and Mulan both dressed as men to hide amongst a group of men and kind of learn to fight (kind of). Mariko is not part of an army, there is no war, but I guess she can throw some stars? That being said, the actual story was decent. I feel like if this hadn't been marketed as a Mulan retelling I may have enjoyed it a little more.
Overall, I didn't hate Flame in the Mist, but I wanted a lot more from it. More answers and more fleshed out characters, mostly. I did really like Okami and I enjoyed the world. Unfortunately, there just weren't enough positives to make this a good read and I can't imagine I'll read the sequel, despite it ending on a cliffhanger. I think that if you were to go into this book without any expectations of a retelling and understanding that there will be many unanswered questions, you might have better luck!