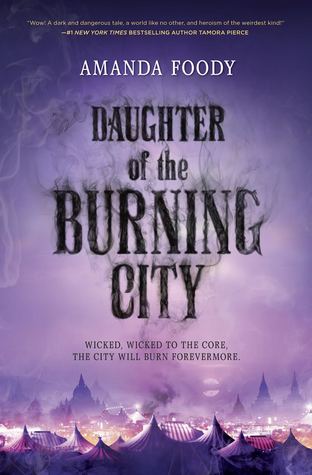 Title: Daughter of the Burning City
Author: Amanda Foody
Publication Date: July 25, 2017
Publisher: Harlequin Teen
Pages: 384
Add to Goodreads
Sixteen-year-old Sorina has spent most of her life within the smoldering borders of the Gomorrah Festival. Yet even among the many unusual members of the traveling circus-city, Sorina stands apart as the only illusion-worker born in hundreds of years. This rare talent allows her to create illusions that others can see, feel and touch, with personalities all their own. Her creations are her family, and together they make up the cast of the Festival's Freak Show.

But no matter how lifelike they may seem, her illusions are still just that—illusions, and not truly real. Or so she always believed…until one of them is murdered.

Desperate to protect her family, Sorina must track down the culprit and determine how they killed a person who doesn't actually exist. Her search for answers leads her to the self-proclaimed gossip-worker Luca, and their investigation sends them through a haze of political turmoil and forbidden romance, and into the most sinister corners of the Festival. But as the killer continues murdering Sorina's illusions one by one, she must unravel the horrifying truth before all of her loved ones disappear.
Sorina is a freak. Born without eyes (but still capable of sight), she was taken in by the Gomorrah Festival as a child and has been raised among the members of the traveling city. She is an illusion-worker and has created a family for herself from her own imagination. But when one of her illusions is murdered - something that should be impossible - Sorina must launch an investigation to save her family and the Festival that is her home.
Oh my goodness, I loved this book. It has had a bunch of hype surrounding it since it was first announced, and it was well deserved. This is an absolutely fantastic debut novel, and if Amanda Foody keeps growing as an author, she is bound to create masterpieces in the future.
What I loved most about
Daughter of the Burning City
was the writing style. It was lyrical, descriptive, and beautiful. Of course, many readers may not like this style, and will therefore be turned off from the book. But if you love getting lost in the language of a novel, you will love this book.
The world of the Gomorrah Festival is utterly unique. I have never read anything so strange and simultaneously beautiful. It takes a few chapters to really get a clear picture of the Festival and get your head wrapped around what is going on, but it is so worth it. The world that Amanda Foody created is weird, for sure. But that sets it apart from other fantasy works and raises it a head above the rest.
And the characters! I have no idea how she came up with the idea for the people that populate the Festival. They were so strange, but so lovable. The romance was a little quick, but it wasn't overbearing at all. And, I'll be honest, most people would probably fall for Luca pretty quickly. He is amazing.
While I adored every second of this book, I decided to lower my rating a bit for two main reasons. Firstly, Sorina missed some blatantly obvious clues during her investigation. Weird things happened and she just breezed past them without a second thought. Also, there was a small plot hole at the end of the book when the twist was revealed. I did read the ARC, so there is a chance this was fixed in the final copy, but it left me with some questions.
Ultimately, if your reading tastes are similar to mine, I highly recommend
Daughter of the Burning City
. I love descriptive and lyrical books, and I don't mind if there is not a lot of action. If you are looking for an action-packed fantasy, this won't be for you. But I still recommend that you try to read a few chapters and push through, because you just might find a new favorite book.