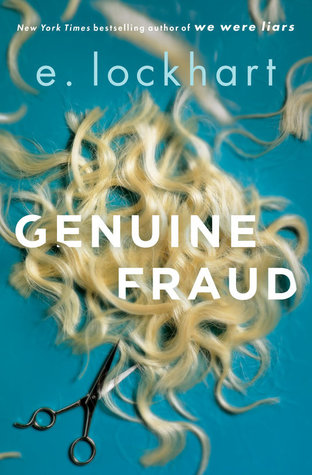 Title: Genuine Fraud
Author: E. Lockhart
Publication Date: September 5, 2017
Publisher: Delacorte Press
Pages: 264
Add to Goodreads
The story of a young woman whose diabolical smarts are her ticket into a charmed life. But how many times can someone reinvent themselves? You be the judge.

Imogen is a runaway heiress, an orphan, a cook, and a cheat.
Jule is a fighter, a social chameleon, and an athlete.
An intense friendship. A disappearance. A murder, or maybe two.
A bad romance, or maybe three.
Blunt objects, disguises, blood, and chocolate. The American dream, superheroes, spies, and villains.
A girl who refuses to give people what they want from her.
A girl who refuses to be the person she once was.
There is not much I can give as a summary of Genuine Fraud without giving something away, so I will jump right into the review. This book was…alright. It definitely wasn't a bad read, but it could have been so much more. I was entertained, but I wasn't convinced enough to suspend my disbelief about the events that were happening.
I will give this book credit for having an interesting style. It is told in reverse chronological order, with a final chapter in the present at the end to wrap everything up. This gives you a chance to learn the pieces of Jule's life that have brought her to the point she is at when the book opens. It was definitely a unique way to get to know a character.
Unfortunately, I feel like I wasn't able to fully understand Jule and her motivations. I wish the book had been a bit longer so I could have learned more about her. The story of her past stopped right at the point where she was first set on her current path. It would have been so much better to go back a little farther and learn what made her mind work in the way it does. The reader was shown how Jule came up with the idea for this particular plot line, but we didn't get to learn what made her character that way.
There were a couple reasons that I had trouble suspending my disbelief for this book. Firstly, there were some mistakes within the timeline. If a book is being told reverse-chronologically like this one, it is critical to make sure that the timeline matches up. I did read the ARC, so there is a chance these mistakes were fixed in the final copy, but it really took me out of the story when I had to try to figure out the timeline.
Also, the characters were not believable whatsoever. They are a bunch of 18 year old college dropouts…and their ages don't match up with their timeline. It makes no sense. Plus, they are all able to travel the world at the drop of a hat without telling their parents where they are. I guess there might be some kids out there that could do this, but their lifestyle seemed so far-fetched and ridiculous. Another small thing that bothered me was their vocabulary. (Apologies for the upcoming language.) They would say "fuck" all the time, but they would call people a "witch" instead of a "bitch." I know this really isn't that important, but it was so annoying.
Ultimately, this book could have been so much more, but it fell flat. Yes, it was a nice, quick, entertaining read, but it was missing some crucial character development. The final chapter, which returned the reader to the present and provided a "twist" to the story, felt irrelevant after all the time that had been spent in Jule's past. It would have been better to add a chapter or two diving further into what made Jule tick.
Genuine Fraud is a short book, so definitely give it a try if you are interested. It is a unique and fun concept, but it lacks that special something that would turn it into a great thriller.