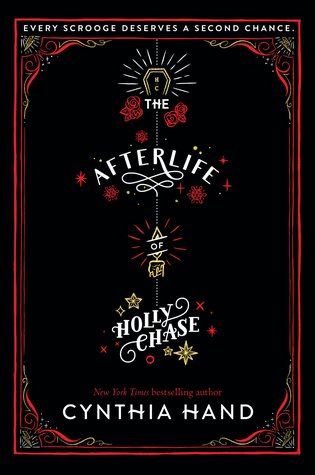 Title: The Afterlife of Holly Chase
Author: Cynthia Hand
Publication Date: October 24, 2017
Publisher: Harper Teen
Pages: 400
Add to Goodreads
Before I Fall meets "bah, humbug" in this contemporary YA reimagining of A Christmas Carol from New York Times bestselling author Cynthia Hand.

On Christmas Eve five years ago, seventeen-year-old Holly Chase was visited by three Ghosts who showed her how selfish and spoiled she'd become. They tried to convince her to mend her ways. She didn't. And then she died.

Now she's stuck working for the top-secret company Project Scrooge—as their latest Ghost of Christmas Past. So far, Holly's afterlife has been miserable. But this year's Scrooge is different. This year's Scrooge might change everything…

The Afterlife of Holly Chase is a witty, poignant, and insightful novel about life, love, and seizing second (or third) chances, perfect for readers who loved Before I Fall or Dash & Lily's Book of Dares.
Holly Chase is a Scrooge. She is pretty awful to everyone, completely self-absorbed, and living in the lap of luxury. Until one night when she is visited by the Ghosts of Christmas Past, Present, and Future. Holly thinks she is having an intense dream about Charles Dickens' A Christmas Carol, and doesn't take any of it seriously. Unfortunately, she should have listened to the Ghosts, because she soon finds herself dead - and working for Project Scrooge, the same company that tried to help her change her ways.
This turned out to be such a cute holiday read. It was light, entertaining, and not your typical YA story. I hadn't even heard of it until the ARC showed up on my doorstep, but the cover intrigued me and I decided to give it a try. I'm so glad I did. It is mainly classified as fantasy, but it definitely reads more like a contemporary story. It touched on a bunch of YA contemporary tropes (e.g., girl getting "saved" by an oh-so-hunky guy), but it turned them all on their head. It was such a refreshing read for someone like me, who can often struggle with contemporary novels.
The plot was cute and fluffy. There weren't many twists and turns (and most of them were predictable), but it was still a lot of fun. And every character was so lovely. Even though Holly was a total brat, I found that I could frequently sympathize with her. And I really felt her character grow throughout the book. Many of the other characters were OBSESSED with the spirit of Christmas, so they were chipper throughout the whole book and didn't change very much. But they were so much fun and added a lot of humor to the story.
I have found that I really like stories that are retellings of older books, but that acknowledge the original in the newer tale. This was a Christmas Carol retelling, but the entire premise of the book was based on recreating the original story. (I hope these descriptions make sense. I feel a bit like I'm talking in circles.) The Dickens book is the whole basis of Project Scrooge, and all of the characters have Dickensian code names. I really loved the throwback to classic literature because it was handled in such a lighthearted way. If you like the story of A Christmas Carol at all, you will probably love this book.
I think The Afterlife of Holly Chase is a great read for a lot of different readers. If you love contemporary, you will like this. Even if you don't love contemporary, you will appreciate the fact that it changes the typical YA story. If you love Christmas or classic literature, this is a must-read. But even if you don't celebrate Christmas and you want to read something about learning to appreciate life, this is a wonderful book.