I tried SO HARD to track this tag down to its source. After following it to a million blogs and a couple Youtube channels, I finally ended up at a video that had been removed. I have no idea where this tag originated, but I found it at
Thoughts on Fantasy
and decided to tag myself! I love book tags and I love Goodreads, so here we go!
WHAT WAS THE LAST BOOK YOU MARKED AS READ?
Bright We Burn, which I LOVED! I cannot wait to share my review with everyone, but for now I'll just say that it was an absolutely incredible ending to one of my favorite series of all time!
WHAT ARE YOU CURRENTLY READING?
This is my current read and I am so excited to be able to read it early!! It's SO good so far!
WHAT WAS THE LAST BOOK YOU MARKED AS TBR?
I spotted Winterhouse while browsing the kids section at Barnes & Noble when I was looking a book to send my niece for her birthday. I have no idea what it's about but it's gorgeous and the dust jacket design is super clever!
WHAT BOOK DO YOU PLAN TO READ NEXT?
I have this coming from a trade and I absolutely cannot wait to read it! This has been another of my favorite recent series and I'm eager to see how it wraps up!
DO YOU USE THE STAR RATING SYSTEM?
Of course! The only time I don't go by the Goodreads system exactly is when I feel the need to use half stars. I also avoid stars altogether if I've DNF'd a book.
ARE YOU DOING A 2018 READING CHALLENGE?

Yes! I'm doing the Goodreads challenge (with a slightly reduced goal after the trainwreck that was last year...) as well as the Pop Sugar challenge, an audiobook challenge, and a graphic novel challenge!
DO YOU HAVE A WISHLIST?
Yep! I have a wishlist that I keep update for my husband and parents in case of Christmas, birthday, or, you know, if they're just feeling extra nice.
WHAT BOOK DO YOU PLAN TO BUY NEXT?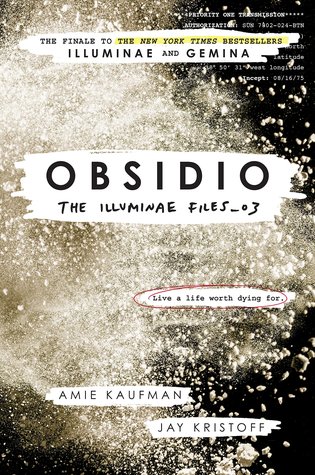 I currently have Obsidio preordered so I suspect that will be the next one to sadden my bank account.
DO YOU HAVE ANY FAVORITE QUOTES?
No, I'm awful at quotes. See this week's Top Ten Tuesday for more info :)
WHO ARE YOUR FAVORITE AUTHORS?
My auto-buy authors are Kiersten White, Megan Shepherd, Sarah J. Maas, Stephanie Garber, Leigh Bardugo, and A.G. Howard.
HAVE YOU JOINED ANY GROUPS?
I have joined sooooo many but I'm the worst at participating in them! Sometimes I vote in the monthly reading polls with the intention of participating, but then I don't because I'm a mood reader. Maybe I shouldn't vote anymore, honestly.
---
I tag everyone who wants to participate in the Goodreads tag!
Want to be friends?
Add me here
!