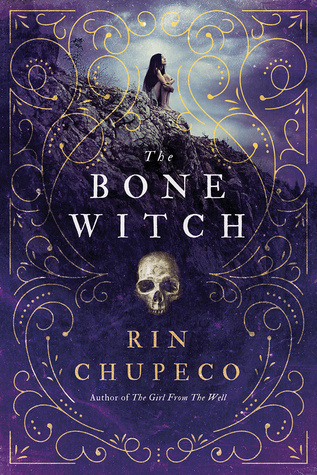 Title: The Bone Witch (The Bone Witch #1)
Author: Rin Chupeco
Publication Date: March 7, 2017
Publisher: Sourcebooks Fire
Pages: 432
Add to Goodreads
In the captivating start to a new, darkly lyrical fantasy series for readers of Leigh Bardugo and Sabaa Tahir, Tea can raise the dead, but resurrection comes at a price...

Let me be clear: I never intended to raise my brother from his grave, though he may claim otherwise. If there's anything I've learned from him in the years since, it's that the dead hide truths as well as the living.

When Tea accidentally resurrects her brother from the dead, she learns she is different from the other witches in her family. Her gift for necromancy means that she's a bone witch, a title that makes her feared and ostracized by her community. But Tea finds solace and guidance with an older, wiser bone witch, who takes Tea and her brother to another land for training.

In her new home, Tea puts all her energy into becoming an asha-one who can wield elemental magic. But dark forces are approaching quickly, and in the face of danger, Tea will have to overcome her obstacles...and make a powerful choice.
I've put off reading The Bone Witch despite having owned it for over a year because a friend told me I would hate it. However, after hearing how amazing it is for months, seeing the gorgeous cover for The Heart Forger, and being told by another friend that I absolutely SHOULD read it, I finally gave it a try!
Tea, not pronounced like the beverage, is the Bone Witch and she is special. She has rare, strong powers that she uses as a child with no training to bring her brother back to life. She is taken by an older bone witch to learn how to be an asha. Intertwined with Tea's narration is that of a bard who has come to find older, banished Tea and learn her story. I enjoyed the way the two storylines were told and anticipated them coming together at the end of the book. All of this sounds awesome, and the beginning had me hooked!
Unfortunately, The Bone Witch becomes incredibly boring and tedious after the first few chapters. There are countless descriptions with very little action throughout most of the story. Tea goes to class, Tea has dinner, Tea makes friends, Tea gets new clothes, Tea has a crush, and on and on and on. Buried within all this monotony is a good story, but it takes so long to get to it that I just couldn't force myself to stay interested.
I found the characters themselves to be just as boring. Honestly, I can't remember any of their names besides Tea and her brother, Fox, who was probably the most interesting character in the entire book. I wanted desperately to care about Tea, but she came off as a special snowflake (is there another word for this that we can use now?) who has amazing powers for... reasons... and she is more powerful than anyone around her for other reasons. She also knows how to use them without training, which is, of course, out of the usual. I really wish more had been explained about why Tea was so much more advanced than the other girls around her.
Something I did love about The Bone Witch was the world building. Since 92% of the book was spent on descriptions, I definitely had a good idea of the world and what it looked like. There was some interesting backstory to the magic and the city, and I thought some of the creatures and especially the daevas were really unique. But again, all this comes at the expense of a plot. There is none.
Finally, I despised the ending. In fact, I thought the audiobook hadn't downloaded the last part and double checked, then texted a friend asking if I'd missed something major. The two storylines I mentioned earlier never came together. What I'm guessing is the middle of the story is shown at the beginning of the book, then we work towards that point from Tea's perspective, but the book ends well before the two converge. It left it all feeling very unfinished.
I didn't completely despise this book, but I was left extremely underwhelmed. I prefer to read series and don't mind a cliffhanger at all, but I hated the way this one was written. I don't mind stories that aren't completely plot-driven either, but this one barely had a plot at all and the characters were forgettable. In the hands of another author, I think this is a story I really could have loved. I just don't think Rin Chupeco is the author for me.