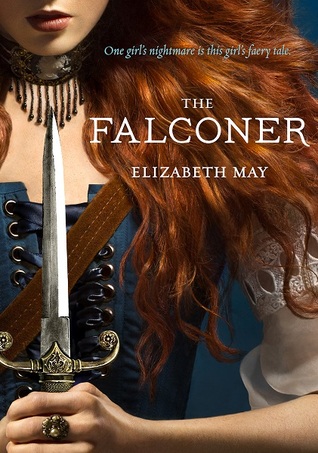 Title: The Falconer (The Falconer #1)
Author: Elizabeth May
Publication Date: September 19, 2013
Publisher: Chronicle Books
Pages: 378
Add to Goodreads
One girl's nightmare is this girl's faery tale

She's a stunner.
Edinburgh, 1844. Eighteen-year-old Lady Aileana Kameron, the only daughter of the Marquess of Douglas, has everything a girl could dream of: brains, charm, wealth, a title—and drop-dead beauty.

She's a liar.
But Aileana only looks the part of an aristocratic young lady. she's leading a double life: She has a rare ability to sense the sìthíchean—the faery race obsessed with slaughtering humans—and, with the aid of a mysterious mentor, has spent the year since her mother died learning how to kill them.

She's a murderer.
Now Aileana is dedicated to slaying the fae before they take innocent lives. With her knack for inventing ingenious tools and weapons—from flying machines to detonators to lightning pistols—ruthless Aileana has one goal: Destroy the faery who destroyed her mother.

She's a Falconer.
The last in a line of female warriors born with a gift for hunting and killing the fae, Aileana is the sole hope of preventing a powerful faery population from massacring all of humanity. Suddenly, her quest is a lot more complicated. She still longs to avenge her mother's murder—but she'll have to save the world first.
This was my second time reading through this book as I have a nasty habit of staring a series and not finishing it. I planned of finally finishing this series this year. I have loved everything Scotland for as long as I can remember so I knew I was going to love this book no matter what.
At first this book was honestly a cover buy for me. I saw the pretty little thing sitting on the shelf at Barnes & Noble and knew I just had to have it. I ever waited so long to pick it up which I still am questioning myself about still to this day. How very stupid on my part! From the first page turning I could NOT GET ENOUGH! And still can't after my second time through. It physically hurt to set it down lol. All the fight scenes and subtle romance had me craving more like a chubby kid craves cake.
Kiaran will forever be my book boyfriend. Make way Jace and Will we have a new occupant lol. There was a bit of what could be a love triangle in this book, but Aileana doesn't seem to care for the one boy like she apparently did previously. There were definitely a lot of sparks flying between Aileana and Kiaran!
I loved how this book had some steampunk elements and how those element clicked and whirred their way into how the story was written. I really wish I had a little faery like Derrick to mend my clothes and make me laugh with his honey-drunken self. While it did have some more language than most YA books that I have read, this book was everything that I didn't know I had been searching for in a YA Fantasy novel. Almost as soon as I finished this book I just had to order the second one!
I would highly, highly recommend this book to anyone that likes books with fae or a touch of history or steampunk. You won't be disappointed by this book! I've also listened to a smidge of the audiobook, and if you love Scottish accents like I do then you'll love the audiobook.