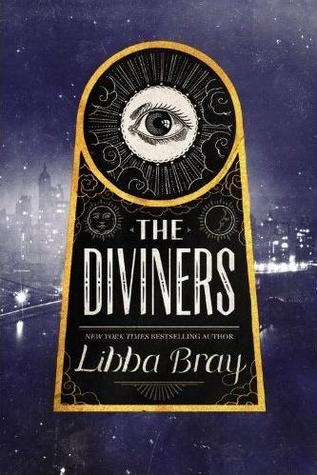 Title: The Diviners (The Diviners #1)
Author: Libba Bray
Publication Date: September 18, 2012
Publisher: Little, Brown Books for Young Readers
Pages: 578
Add to Goodreads
Evie O'Neill has been exiled from her boring old hometown and shipped off to the bustling streets of New York City—and she is pos-i-tute-ly ecstatic. It's 1926, and New York is filled with speakeasies, Ziegfeld girls, and rakish pickpockets. The only catch is that she has to live with her uncle Will and his unhealthy obsession with the occult.

Evie worries he'll discover her darkest secret: a supernatural power that has only brought her trouble so far. But when the police find a murdered girl branded with a cryptic symbol and Will is called to the scene, Evie realizes her gift could help catch a serial killer.

As Evie jumps headlong into a dance with a murderer, other stories unfold in the city that never sleeps. A young man named Memphis is caught between two worlds. A chorus girl named Theta is running from her past. A student named Jericho hides a shocking secret. And unknown to all, something dark and evil has awakened.
I've really wanted to read this book for the longest time, but I think the thing that made me keep putting it off was the fact that this book is MASSIVE! I can be a fast reader at times, yet I didn't want to start a big book while I have a bunch of other books that I need to read and review. The other day I was looking at the audiobooks that my library has available and I spotted this one.
I've been trying to listen to a lot of audiobooks while I'm commuting to and from work or really anytime I'm in the car. I have to admit that I was a bit worried going into this one as I tend to have a love hate relationship with audiobooks depending on how well the person reads them. I also wasn't sure of this audiobook as it was over fifteen hours long. From the start, this book was amazing!
The narrator, January LaVoy, was one of the best that I've heard so far! She legitimately had a voice for every character which in turn helped me keep them straight as this book had a lot of characters. She even sang some parts where the characters did and amazingly to boot. The fact that she did so great with this book makes me want to rush to the library and get all the audiobooks that she's ever narrated.
As for the book itself, I freaking loved it!! Not only was it from one of my favorite time periods, but it also takes place in one of my favorite cities. This book gave me so many Great Gatsby vibes that I couldn't get enough. It made me want to don a flapper dress, bob my hair, and dance my shoes off like they did at the Hottsie Tottsie while drinking some bootlegged liquor.
There also were some supernatural elements to this book which made it even better. I love when an author is able to bring fiction and real life things together in such a way that it almost could have happened in real life. Libba does such a great job at this that it almost made me think that the Diviners could be real.
One other thing that I really loved about this book is the fact that there is so much time period slang. Books that have time period slang or even their own made up slang (Snow Like Ashes I'm looking at you) make me so happy! It just goes to show that the author went through great lengths to research for their book and truly immersed themselves into that world.
If you love anything 1920's or books with a hint of the supernatural, then you'll love this book. Don't be put off by the size of the book like I was. It's worth every page!