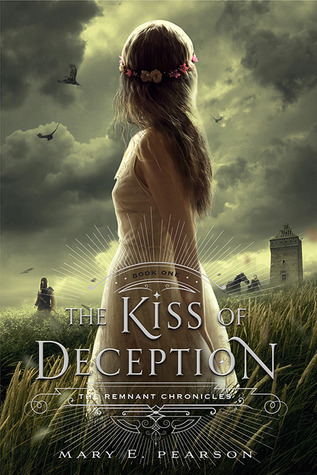 Title: The Kiss of Deception (The Remnant Chronicles #1)
Author: Mary E. Pearson
Publication Date: July 8, 2014
Publisher: Henry Holt and Co.
Pages: 486
Add to Goodreads
Review for book 2
Tracy's Review
A princess must find her place in a reborn world.

She flees on her wedding day.

She steals ancient documents from the Chancellor's secret collection.

She is pursued by bounty hunters sent by her own father.

She is Princess Lia, seventeen, First Daughter of the House of Morrighan.

The Kingdom of Morrighan is steeped in tradition and the stories of a bygone world, but some traditions Lia can't abide. Like having to marry someone she's never met to secure a political alliance.

Fed up and ready for a new life, Lia flees to a distant village on the morning of her wedding. She settles in among the common folk, intrigued when two mysterious and handsome strangers arrive—and unaware that one is the jilted prince and the other an assassin sent to kill her. Deceptions swirl and Lia finds herself on the brink of unlocking perilous secrets—secrets that may unravel her world—even as she feels herself falling in love.
I absolutely loved this book! I have been meaning to read it for such a long time now, but I think I was a bit intimidated by the size of all the books in the series. You could kill somebody with the last book! I ended up having an extra credit to spend on my audible account so I went and purchased this book to listen to on my commutes to and from work.
First off, I really liked the world building. We get to see a tiny bit of the kingdom that she lives in, and then a little sleepy fishing town. I'm not sure if the book itself has a map as I haven't looked at my copy, but the world in this book seems very expansive. I can't wait to read more about it in the rest of the series!
I really loved how you had no idea who the assassin or the prince were. It's even a while before we get to know their names. I was searching so hard for defining details to see if I could even put a name to which boy was which, but I couldn't find one until of course you find out later in the book. I don't think I've ever read a book like that at all. I really was on edge trying to figure it out.
I liked the romance in this book a lot. At first both boys sound like great love interests. Of course you know one is a prince and the other an assassin, but even with that in mind, she could have been with either of them depending on who was who. I really give the author props for doing this because I was almost fighting for both boys until that fateful moment.
One thing I hope gets more explained in the next few books is the magic system. We find out a little bit about it, but what are her powers exactly? It left me with a lot of unanswered questions.
All in all this book was a very fun read for me and I'm very excited to get to the next book!