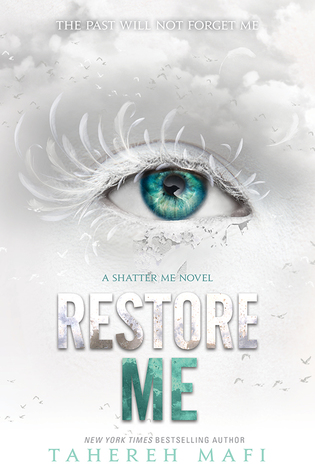 Title: Restore Me (Shatter Me #4)
Author: Tahereh Mafi
Publication Date: March 6, 2018
Publisher: HarperCollins
Pages: 435
Add to Goodreads
Reviews for book 1 and book 2
Juliette Ferrars thought she'd won. She took over Sector 45, was named the new Supreme Commander, and now has Warner by her side. But she's still the girl with the ability to kill with a single touch—and now she's got the whole world in the palm of her hand. When tragedy hits, who will she become? Will she be able to control the power she wields and use it for good?
It has definitely been a while since I've read the Shatter Me series, but with not having much time I figured I would skip a reread and just jump right into this book. It only took me a few chapters to catch onto what was happening, but this book starts off just days after the events in Ignite Me.
I was so happy to have more Kenji in my life! I absolutely love him as a character. Out of all the characters in all of the books that I've read I would forever choose to have Kenji as my best friend. He literally has to be one of the best supporting characters that I have ever read. Not only is he amazing to Juliette, but he also goes out of his way to try to get to know and befriend Warner just to appease her. And it just goes to show that girls and boys can be just friends.
One thing that I absolutely loved about this book is the fact that we get to read from Warner's point of view. I repeat. WARNER'S. POINT. OF. VIEW. My poor, tortured Warner. God, I love him!
I am so glad that we finally get some world building in this book. It only took four books to get there, but we finally got there. Which, rightfully so, Juliette was so ignorant to the outside world that we didn't get to see too much of the world as she told her story. And now that she got herself into this mess we get to see a bunch more countries that are all kind of interested in this little girl who is now the Supreme Commander.
It was really fun getting to dig deeper into these character's minds once again. Juliette has a lot going on around her and stress levels are to the max as she tries to figure out her new position and her fairly new relationship with Warner.
I do have to say this was a very character driven book, but there were a LOT of plot twists. Just when I thought something was going right for these characters it backfired. That ending left me with so many questions that I desperately need answered like tomorrow.
All in all I have to say this book was really good, and I liked it as much if not better than the first few books in the series. I cannot wait to see what Tahereh puts these characters through in the next book. Hopefully there will be some happiness for them.