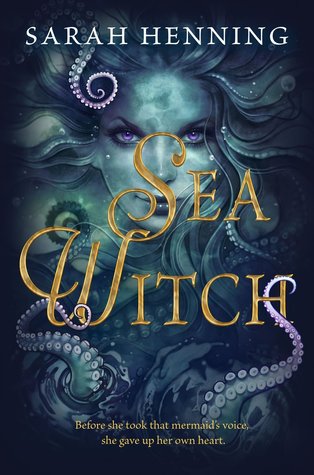 Title: Sea Witch
Author: Sarah Henning
Publication Date: July 31, 2018
Publisher: Katherine Tegen Books
Pages: 368
Add to Goodreads
Everyone knows what happens in the end.
A mermaid, a prince, a true love's kiss.
But before that young siren's tale, there were three friends.
One feared, one royal, and one already dead.

~~~~~~~~~~

Ever since her best friend, Anna, drowned, Evie has been an outcast in her small fishing town. A freak. A curse. A witch.

A girl with an uncanny resemblance to Anna appears offshore and, though the girl denies it, Evie is convinced that her best friend actually survived. That her own magic wasn't so powerless after all. And, as the two girls catch the eyes—and hearts—of two charming princes, Evie believes that she might finally have a chance at her own happily ever after.

But her new friend has secrets of her own. She can't stay in Havnestad, or on two legs, unless Evie finds a way to help her. Now Evie will do anything to save her friend's humanity, along with her prince's heart—harnessing the power of her magic, her ocean, and her love until she discovers, too late, the truth of her bargain.

The rise of Hans Christian Andersen's iconic villainess is a heart-wrenching story of friendship, betrayal, and a girl pushed beyond her limits—to become a monster.
I dove headfirst into Sea Witch as soon as I had it in my hands. I LOVE retellings and The Little Mermaid is one of my favorite stories. I knew going in that this was more about, well, the Sea Witch. Still, I went in with not much of an idea about the book itself. I didn't read reviews and I only skimmed the synopsis.
The main character of this story is Evie. She's best friends with the prince, Nik, and their mutual friend, Anna, drowned years before. Evie also has magic that is outlawed in her town, meaning she has to hide it or risk being punished for it. I thought Evie was a fun character and I really enjoyed reading her story. I enjoyed her relationships with the prince and his cousin, along with the new girl, Annemette. While reading this book, there was always a feeling that not everyone was being completely honest and I liked trying to figure out what everyone was really thinking.
I loved the friendship between Nik and Evie! There was an interesting layer caused by the public's perception of these two together. While Nik is a prince, Evie's family is not nobility. They are friends solely because Evie's grandmother is an amazing healer who the royal family trusts. The rest of the town only believes the worst of Evie, while she has loved Nik (as a friend) since childhood. Enter Annemette, the Little Mermaid character in the story. I thought the way her situation with Nik was handled was just different enough from the story we already know to make it interesting.
This is the main issue I have with Sea Witch, actually. The story, while a little different from The Little Mermaid, is also very, very similar. There were bits that kept me guessing, but on the whole it hits all the main points you would expect. It was also a bit slow at times and, honestly, the story was a bit forgettable.
There were glimpses of the undersea world, but I would have loved more! The world above did come off as a very generic fairytale kingdom, while the ocean world seemed much more intriguing. I understand that this was about the Sea Witch's origins, but I'd have preferred a lot more of actual Sea Witchery than what we got.
I didn't dislike this book by any means! I love villain origin stories, but I just wasn't completely sold on this one. I can't say much more without spoilers, but the more I think about it, the more reasons I find for not loving Sea Witch. If you're looking for a lighter Little Mermaid retelling that's pretty straightforward, this is the one for you. Just don't go into it looking for something super new and unique.