Title: Long Lankin
Author: Lindsey Barraclough
Publication Date: April 7, 2011
Publisher: Bodley Head
Pages: 464
Add to Goodreads
Beware of Long Lankin, that lives in the moss. . . .When Cora and her younger sister, Mimi, are sent to stay with their elderly aunt in the isolated village of Byers Guerdon, they receive a less than warm welcome. Auntie Ida is eccentric and rigid, and the girls are desperate to go back to London. But what they don't know is that their aunt's life was devastated the last time two young sisters were at Guerdon Hall, and she is determined to protect her nieces from an evil that has lain hidden for years. Along with Roger and Peter, two village boys, Cora must uncover the horrifying truth that has held Bryers Guerdon in its dark grip for centuries -- before it's too late for little Mimi. Riveting and intensely atmospheric, this stunning debut will hold readers in its spell long after the last page is turned.
I heard of Long Lankin while reading reviews for And the Trees Crept In, a book I had high expectations for and was hugely disappointed by. This was supposed to be the better version of that, so I was ready for an amazing, terrifying read!
Honestly, I don't remember how far I made into Long Lankin, but a valiant attempt was made. The book begins when Cora and Mimi are sent to live with their aunt where they're unwanted. They make an attempt to enjoy their time with Auntie Ida while conforming to her strict rules and making friends with a couple local boys. They, of course, get into trouble and things supposedly start getting creepy...
I couldn't find the creep. Horror books need to be good and terrifying if I'm going to enjoy them and, despite the synopsis and the reviews, I just couldn't get into this. It dragged and, while it was atmospheric, it wasn't in a frightening way. Ultimately, I was way too bored and uninvested to make it to the end of Cora and Mimi's story. Coming in at 464 pages, this book is much more of a best than it needs to be.
---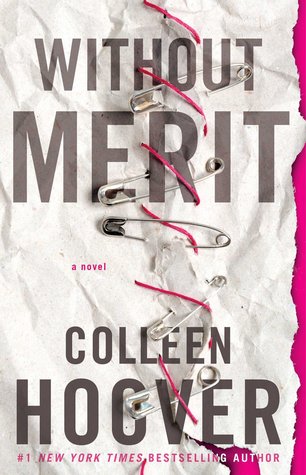 Title: Without Merit
Author: Colleen Hoover
Publication Date: October 3, 2017
Publisher: Atria Books
Pages: 385
Add to Goodreads
Not every mistake deserves a consequence. Sometimes the only thing it deserves is forgiveness.

The Voss family is anything but normal. They live in a repurposed church, newly baptized Dollar Voss. The once cancer-stricken mother lives in the basement, the father is married to the mother's former nurse, the little half-brother isn't allowed to do or eat anything fun, and the eldest siblings are irritatingly perfect. Then, there's Merit.

Merit Voss collects trophies she hasn't earned and secrets her family forces her to keep. While browsing the local antiques shop for her next trophy, she finds Sagan. His wit and unapologetic idealism disarm and spark renewed life into her—until she discovers that he's completely unavailable. Merit retreats deeper into herself, watching her family from the sidelines when she learns a secret that no trophy in the world can fix.

Fed up with the lies, Merit decides to shatter the happy family illusion that she's never been a part of before leaving them behind for good. When her escape plan fails, Merit is forced to deal with the staggering consequences of telling the truth and losing the one boy she loves.
I have
read
and
hated
two books by Colleen Hoover in the past few years, but when I found myself in the mood for a contemporary novel and saw that she had published a YA book, I decided to give her one last try.
Merit is the MC of this story and, shockingly, I didn't hate her. She runs into Sagan one day and feels instant chemistry, but through a series of misunderstandings and assumptions, decides that they can't be together. Sagan was an enjoyable character who I thought made a good romantic interest. I wouldn't mind reading more about him, honestly.
Without Merit contains the usual angst and drama you would expect in a Colleen Hoover novel, but this one was actually bearable and kind of cute at times. I think part of what made it more enjoyable was that the angsty romance wasn't the main focal point of the story. Merit and her family was much more at the forefront and, even though that's not my usual kind of read, I enjoyed it a lot more than the author's other novels. If you've hated her other books, this might be the Colleen Hoover pick for you!
---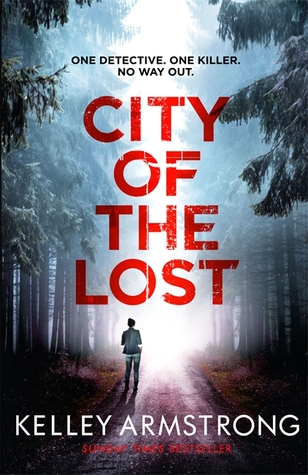 Title: City of the Lost (Rockton #1)
Author: Kelley Armstrong
Publication Date: January 14, 2016
Publisher: Sphere
Pages: 471
Add to Goodreads
Casey Duncan is a homicide detective with a secret: when she was in college, she killed a man. She was never caught, but he was the grandson of a mobster and she knows that someday this crime will catch up to her. Casey's best friend, Diana, is on the run from a violent, abusive ex-husband. When Diana's husband finds her, and Casey herself is attacked shortly after, Casey knows it's time for the two of them to disappear again.

Diana has heard of a town made for people like her, a town that takes in people on the run who want to shed their old lives. You must apply to live in Rockton and if you're accepted, it means walking away entirely from your old life, and living off the grid in the wilds of Canada: no cell phones, no Internet, no mail, no computers, very little electricity, and no way of getting in or out without the town council's approval. As a murderer, Casey isn't a good candidate, but she has something they want: She's a homicide detective, and Rockton has just had its first real murder. She and Diana are in. However, soon after arriving, Casey realizes that the identity of a murderer isn't the only secret Rockton is hiding—in fact, she starts to wonder if she and Diana might be in even more danger in Rockton than they were in their old lives.
This was my first Kelley Armstrong book and I picked it up after seeing it a few times over at Greg's Book Haven. I was in a true crime (but not) kind of mood, so I decided to give it a try!
Casey and Diana have been best friends forever and both have troubled pasts that they could stand to escape from. The chance comes in the form of Rockton - an off the grid town that gives people a fresh start, for a price. Casey is allowed in as the town's new homicide detective because of the recent murder in the town that the current sheriff can't handle alone. Once she gets there, she must navigate the town and the murder with a town who keeps its secrets close.
I don't read a lot of adult fiction, so I wasn't sure if I'd enjoy this one, but I was pleasantly surprised! Casey was a fantastic main character and the Rockton characters were all well developed. I liked that I was never completely sure if anyone was who they said they were. The murder mystery part of the story was twisty and well written! My main complaint was that it did take a while to get moving and the story dragged for me until halfway through. Overall, I enjoyed it and I'll probably be picking up part two.