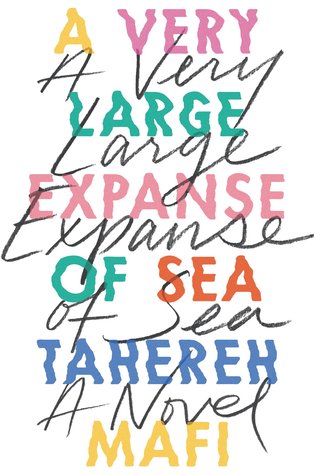 Title: A Very Large Expanse of Sea
Author: Tahereh Mafi
Publication Date: October 16, 2018
Publisher: HarperTeen
Pages: 320
Add to Goodreads
It's 2002, a year after 9/11. It's an extremely turbulent time politically, but especially so for someone like Shirin, a sixteen-year-old Muslim girl who's tired of being stereotyped.

Shirin is never surprised by how horrible people can be. She's tired of the rude stares, the degrading comments—even the physical violence—she endures as a result of her race, her religion, and the hijab she wears every day. So she's built up protective walls and refuses to let anyone close enough to hurt her. Instead, she drowns her frustrations in music and spends her afternoons break-dancing with her brother.

But then she meets Ocean James. He's the first person in forever who really seems to want to get to know Shirin. It terrifies her—they seem to come from two irreconcilable worlds—and Shirin has had her guard up for so long that she's not sure she'll ever be able to let it down.
It's no secret around here that I don't usually read contemporary fiction. I'm also not a huge fan of the Shatter Me series, so you might be wondering why I even decided to read A Very Large Expanse of Sea. I heard Tahereh Mafi talk about this book and learned that it was really an autobiographical book and I was instantly interested in knowing more of her story.
The main character of this story is Shirin, a Muslim-American girl living in the aftermath of 9/11. I found Shirin to be a wonderfully written character. She's strong and passionate and I adored her relationships with her brother and friends! I loved her passion for break-dancing, although I found it a bit repetitive. That's probably because I literally don't know how to dance though...
But what about the romance? I loved Ocean! I loved Ocean and Shirin together! What I didn't care for was the never ending angst. It was so hard to watch Ocean try to get close to Shirin, see her want to be close to him, but repeatedly shut him out. It also happens to be a trope that I really can't stand. I can understand her reluctance, but I have a really hard time with the back and forth angsty relationships that often plague YA and NA contemporary romance. When they were together, though, they were magic.
One of the reasons I wanted to read this book is because I have absolutely no idea what it's like to be Muslim in America, especially during such a turbulent time. I found it very easy to sympathize with Shirin and difficult to read about the abuse she received from the Islamophobic people she had to deal with. The constant badgering from those around her, the derogatory comments and questions, were awful. Unfortunately, it caused her to be angry and closed off and often harsh, hence the angst with Ocean.
Something I really liked about this book was that the writing. It was much different from Mafi's previous books and much easier for me to read. In fact, I blew through this book in a couple days. A Very Large Expanse of Sea is an impactful, eye opening book and I think it's going to be an important one. It definitely helped me to understand a bit more and I wish I'd had access to books like this as a teenager growing up in the south where people were not always welcoming.
The end of this book was perfect. I loved Shirin's character growth and the way her relationships with those around her progressed. Overall, I really enjoyed A Very Large Expanse of Sea. It's honest and a fantastic coming of age story! I definitely recommend it to fans of Tahereh Mafi and contemporary fiction.