Hi again everyone! This week I'm looking at ten books on my TBR instead of five. I seem to have been going through a mythology phase when most of these books were added, which isn't a huge surprise if I'm being honest. It's a lot of randomness and a lot of ugly covers. (Really, I've definitely become much more of a cover judger since these were added.)
The Down the TBR Hole meme was started by
Lost In a Story
and it is the most perfect tool for cleaning off shelves that I've come across. Here's how it works:
Go to your goodreads to-read shelf.
Order on ascending date added.
Take the first 5 (or 10 if you're feeling adventurous) books
Read the synopses of the books
Decide: keep it or should it go?
Fun fact about me: I'm a Religious Studies major. I definitely love memoirs by people who have left smaller religions or cults, so it's not surprising that this book is on my list. I think there are other Scientology memoirs somewhere buried in my TBR. This one is definitely staying on my list and hopefully I'll be able to grab a copy soon! VERDICT: KEEP
I don't have a clue what this book is doing on my TBR list and can't imagine why I would have put it there. I'm not a big reader of historical fiction and I've never really enjoyed time travel stories. The cover is really pretty, so maybe that's what happened. The synopsis does sound interesting! It has romance and fantasy and time travel controlling secret societies (?? I'm guessing), so I'm sure lots of other people would love it, but it's definitely not for me! VERDICT: PASS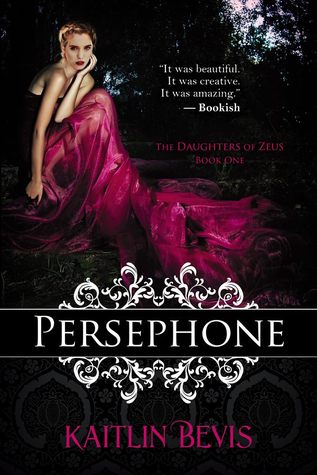 Did I mention that I was a religion major? I also minored in classics and have always been interested in mythology. I seem to have been going through something when I added this book, along with the next couple. I LOVE the story of Hades and Persephone, so this addition makes sense. Unfortunately... the synopsis and the reviews by my friends don't give me much faith that I'd enjoy this particular retelling, so I think I'll pass. VERDICT: PASS
Hmm. That cover is unfortunate. This book is shelved as mythology AND horror, so it does grab my interest right away, despite the awful cover. The synopsis is vague and doesn't really mention Poseidon or any other mythological creature... but reviews mention creatures and action and it's compared to The Evil Dead and Jaws. I'm not sure when I'll ever get around to this and I'm not sure if it's actually mythology based, but I think this will stick around my list for a bit longer. VERDICT: KEEP
Oh look! Another beautiful cover! Do you ever go through your TBR and wonder what in the world possessed you to add a book to it. I'm feeling that feeling right now. The blurb doesn't even really tell me anything! I'm going to be brutally honest. The cover along with the 3.44 rating and lack of description are really not inspiring me to keep this one around.
VERDICT: PASS
Another mythology based book! Have I mentioned I love Loki? The Marvel Loki, not the Norse Mythology one. I'm not too sure how I feel about this one, although it does sound interesting. A couple reviewers mention that it reads like Norse Mythology 101 and I really don't need that thanks to Mr. Gaiman. I'm just not sure whether I'd ever get around to it, honestly.
VERDICT: PASS
Despite the name, this is NOT a mythology book! It's science fiction and the planet is called Artemis. The synopsis did pull me in at first, but a review by a trusted reviewer compares it more to a spiritual journey than a science fiction adventure and... eh.
VERDICT: PASS
Although I don't anymore, I used to read a lot of Egyptian and Roman ancient historical fiction. First of all, this book is beautiful! It's a story about an Egyptian woman who's forced to marry her brother and through some series of events becomes de facto ruler. It sounds like she's probably a badass and I'm definitely going to have to keep this book for later!
VERDICT: KEEP
Another powerful lady MC? Honestly though, I have no idea what this book is. Apparently it's an urban fantasy about demons ruling the earth. (Jessica, have you read this?) Noon is the main character and has powers to control demons. It sounds interesting, but I know I'll never read it. I'm just not into urban fantasy at all.
VERDICT: PASS
I remember seeing this movie when it came out and thinking it was super deep and profound. Who knows if I'd still feel that way on a rewatch? But the book got added to my TBR at some point and it has somewhat decent ratings, if a little lower than expected. I really doubt I'll read it because I already know how it ends, but I may check out the movie a second time! VERDICT: PASS
---
I feel like I did pretty well this week! I got rid of 7 out of 10 books, which seems like a better ratio than normal, so that's what I'm calling it!
What have you added or deleted from your TBR lately?
Have you become more picky about what you add over the years?
Let me know in the comments!